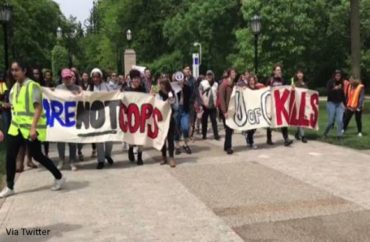 A group of student activists at the University of Chicago are demanding that the campus police be disarmed, saying in a list of demands that "the availability of firearms and tasers has repeatedly led to the excessive use of violence against individuals."
At a recent protest, they held signs declaring "UofC kills."
Yet there has reportedly been only one officer-involved shooting at the institution in over 30 years. In that case, the April 2018 shooting occurred after a student allegedly dealing with mental issues charged a police officer with a metal pole, according to body cam footage. The student, Charles Thomas, was shot once in the shoulder. Now he faces assault and property damage charges.
But on June 1, nearly 100 student protesters marched on campus, interrupting Alumni Weekend celebrations to demand that campus police be disarmed and calling for better mental health services, according to the Chicago Maroon campus newspaper.
They cited the Thomas case to back up their allegations of "UCPD brutality."
#carenotcops mental Health instead of trigger happy cops for all of Chicago pic.twitter.com/kWbTVWxLrA

— MentalHealthMovementChi (@ChicagoMHM) June 1, 2018
At the protest, the student activists, who calls themselves #CareNotCops, chanted: "We won't leave 'til you say yes, fully fund the SCS. We won't leave 'til you agree, police accountability."
A member of the student coalition, Julia Attie, declined to comment to The College Fix about the protest. Campus officials also did not provide a statement about the situation despite requests.
STOP FUNDING COPS. SHUT DOWN THE UCPD #carenotcops #awuchicago pic.twitter.com/oVUzp2dnSV

— uhh (@lyssa_rooo) June 1, 2018
Attie told the Chicago Maroon at the protest that with three psychiatrists on campus "the school is severely understaffed in comparison to Harvard University with around 10 on campus."
This prompted students to demand campus officials "fully fund mental health resources for both University affiliates and the broader community." In addition, students argued the wait times should be reduced to less than two weeks for all counseling services, and in order to do so, UChicago must "fund more working groups for particular student identities, experiences and needs," according to their list of demands.
The #CareNotCops initiative also aims for greater transparency of the University of Chicago Police Department. The student activists demand making all policies public by an Independent Review Committee that would become community directed and appointed.
Solidarity with students, alumni, and community members sitting in at #UChiAW for #CareNotCops // pic.twitter.com/kPMKWt8zol

— kirsten (@kginzzz) June 1, 2018
According to the list of demands, the request to disarm police on campus comes due to the "repeatedly led excessive use of violence against individuals."
"We know that the UCPD, as one of the largest police forces, is held to entirely inadequate standards of transparency and accountability, and that our efforts to challenge their authority and ensure our own safety have been repeatedly blocked by the University of Chicago," student Janelle Hartley, a representative from Students Working Against Prison, said during the protest, the Maroon reports.
"And we know that the suppression of the student and community voices and indifference towards UCPD brutality can only continue to result in atrocities like what happened to Charles."
To fix the allegation, the activists "demand the university to reduce the funding and capacity of the world's second largest private police force."
MORE: UC Merced students demand campus police be disarmed, call cops 'harmful'
Like The College Fix on Facebook / Follow us on Twitter