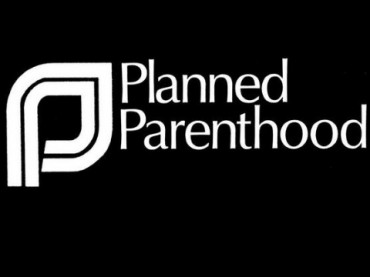 ATHENS, Ga. – A University of Georgia student group took a field trip to Atlanta on Saturday to visit a Planned Parenthood clinic and peruse a two-story adult sex shop.
The trip was undertaken by SHAG, or the Sexual Health Advocacy Group, a student-fee funded activism group whose recent endeavors also include protests of campus pro-life displays and sexual health awareness campaigns featuring anthropomorphized condoms and seasonal themes like "Wrap that Hallowiener."
In announcing its outing, SHAG told its members "our morning will start off with a regional cross dressers support group meeting … followed by a three-hour reproductive justice training at Planned Parenthood, and conclude with a stop at Inserection adult store," according to an email invitation obtained by The College Fix. "A pizza lunch will be provided!"
Seventeen students and one University Health Center employee carpooled to Atlanta, about a 90-minute drive from Athens, for the day-long trip. SHAG officials did not respond to repeated requests to speak about their excursion, nor did Katy Janousek, a sexual health specialist at the University Health Center and SHAG's faculty adviser.
Thomas Jackson Jr., vice president for public affairs at UGA, told The College Fix the trip held academic value.
"As future health educators and counselors, they study and learn about a wide range of matters so as to gain accurate information and learn best practices in providing health education and counseling to the public," Jackson said by email. "The visit to Planned Parenthood and an adult store was chosen by the students so that they might get an understanding of the types of issues with which they'll be working as future health educators and counselors."
Inserection is an adult sex shop that sells a wide variety of items, including vibrators, edible underwear, pornography, pipes and water bongs, and lingerie. At night, the downstairs portion of Inserection becomes a sex club complete with "gloryholes," according to multiple YELP reviewers, with one noting "this is not for the faint at heart … This place is JUMPING on the weekend for all you freaks out there."
Before visiting Inserection, SHAG stopped at the Planned Parenthood in downtown Atlanta. There, group members participated in a three-hour "reproductive justice training" session facilitated by a SHAG alumna now employed at that location.
A Planned Parenthood representative told The College Fix by phone that the training would include "team-building activities" and a discussion about "the definition of reproductive justice," but did not elaborate further.
Planned Parenthood is best known as the country's largest abortion provider, responsible for 327,166 abortions in 2012-13, or roughly one in four abortions performed in the United States over that period.
The organization is among the most visible groups advocating for unlimited access to abortion through its political arm, the Planned Parenthood Action Fund. Planned Parenthood's support for legal abortion in the second and third trimester of pregnancy puts it well outside the mainstream of American public opinion.
In addition to stops at Planned Parenthood and Inserection, the SHAG trip included a "presentation and discussion" with Sigma Epsilon, an Atlanta-based "social organization for adult cross dressers."
SHAG, a controversial campus group, is no stranger to extreme and graphic activities.
For example, the group advertised its first meeting of the fall semester with a "Vagina Vine" featuring a talking puppet named Gina. "Come to tonight's SHAG meeting," Gina said. "I'm excited."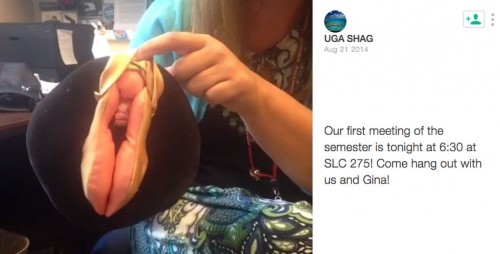 Jackson said that SHAG's work is "objective and across the spectrum – studying material provided by the Centers for Disease Control, information provided by the World Health Organization, and materials from the American College Health Association."
"They receive instruction in basic anatomy, strategies for service delivery, providing Safe Space counseling, bystander intervention, and other elements of what should be an objective and complete health education," he said.
College Fix reporter Blake Seitz is a student at the University of Georgia, as well as editor-at-large of The Arch Conservative. University of Georgia student Elizabeth Ridgeway, publisher of The Arch Conservative, contributed to this report.
Like The College Fix on Facebook / Follow us on Twitter