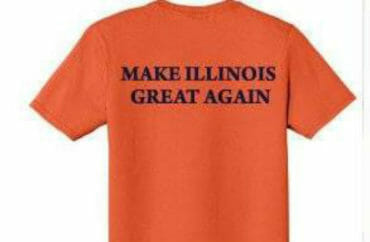 Lazy bureaucrats gave up trying to stop approval of trademark
Iowa State University will pay nearly $1 million in damages and attorney's fees from its losing effort to stop a pro-marijuana student group from selling T-shirts with their club name.
Now the University of Illinois is foolishly rushing into a lawsuit on the same dubious grounds: trademark infringement.
It claims that an alumnus selling orange-and-blue T-shirts with the phrase "Make Illinois Great Again" and a drawing of Chief Illiniwek (below) – the politically incorrect mascot it dumped 11 years ago – is trampling on the taxpayer-funded institution's intellectual property.
The News-Gazette reports that the university claims the shirt's colors are its "trade dress," UI is often referred to as just "Illinois," and that the shirt's drawing of the chief infringes a 2007 photo of the chief. Therefore, defendant Ted O'Malley is "creating confusion in the marketplace" about who is behind the shirts.
MORE: UI ditches 'war chant' to be 'inclusive'
His lawyer calls BS on this:
"No one in their right mind would possibly believe that was something furnished by the University of Illinois," said his attorney, Doug Johnson. "It's much like someone making something that said 'Make America Great Again' being sued by America.

"They are a state actor, and they don't like the message. They're trying to stifle First Amendment rights." …

"How many pictures of the Chief have been taken over the last 30, 40 years?" he said. "That's like saying I took a picture of Wrigley Field, and you can't draw a picture of Wrigley Field because I took a picture of it one time."
MORE: Iowa State pays $343K in legal fees – to start – in failed trademark effort
O'Malley told the News-Gazette he wanted to "parody" the slogan "Make America Great Again" when he filed a trademark application for the phrase a year ago, intending to apply it to "athletic apparel, namely, shirts, pants, jackets, footwear, hats and caps, [and] athletic uniforms."
He said he wanted to convey the message that there are "some things to be improved at the University, especially a few sports teams," and his lawyer signed off on the statement and design as fair use. O'Malley's Facebook page for the shirt had sold "a few" when the university sued him.
The university sought to stop approval of the trademark in November but couldn't be bothered to respond to a motion to dismiss by O'Malley's lawyer Johnson.
In that motion with the U.S. Patent and Trademark Office, Johnson said the sought trademark was a "political statement" against the state government for its "unpaid bills of over 15 billion dollars" and record of tax hikes, as well as an athletic statement against the poor performance of the university's football and basketball teams.
Johnson pointed to the nearly 900 registered trademarks with the word "ILLINOIS" in them and said his client's design didn't use italics, as does the university's official design.
One longtime critic of the chief mascot blames the university for not consistently defending its intellectual property in the interest of maintaining control of the chief's likeness.
Stephen Kaufman told the News-Gazette the university has spent "tens of thousands of dollars on endeavors such as this, only to fail to uphold the legal resolutions that stemmed from such pursuits and subsequent violations."
MORE: Appeals court says Iowa State officials knowing violated 1st Amendment
IMAGE: Ted O'Malley/Facebook
Like The College Fix on Facebook / Follow us on Twitter