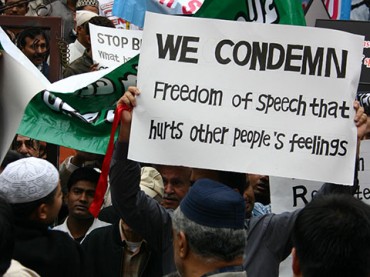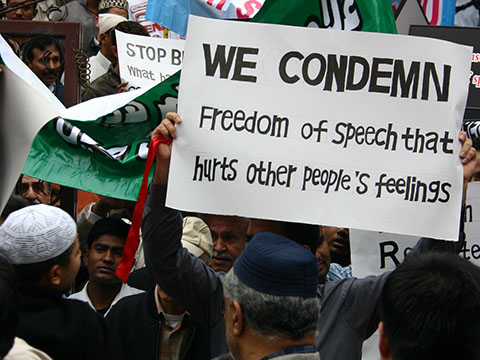 The University of Iowa's president is defending the school's removal of an anti-racist Ku Klux Klan statue – created by its own artist-in-residence – "in the best tradition of the 'some of my best friends are…' defense," the Foundation for Individual Rights in Education says.
Without mentioning the KKK incident, which drew howls of protest from First Amendment groups, President Sally Mason told the community it could have its cake and eat it too:
We have much to be proud of here at the University of Iowa, including our cherished traditions of free speech and open dialogue, as well as our long history of being a welcoming campus. The university must foster an inclusive educational environment, one that is open to all points of view— and one in which people from all backgrounds are welcomed and respected.

Our history of inclusiveness and freedom of expression is rich and goes back to the founding of this remarkable institution. … While our history may provide us with a framework, we must continue to realize these intertwined values of inclusiveness and freedom of expression in our work together.
Under the Chief Diversity Office, "before the next semester begins," Mason said the school will:
Create clarity in the procedures that surround the use of public space for public expressions, including the prompt removal of unauthorized displays on campus.
Review our orientation procedures for new and visiting members of our community to identify opportunities to better acquaint them with relevant policies.
That's a reference to her earlier claim that the artwork didn't get "permission" before going up and that the artist was new to campus.
Catherine Sevcenko of the Foundation for Individual Rights in Education, which along with the National Coalition Against Censorship wrote to the school after the initial removal, is extremely wary of Mason's promised review, saying she "seemed to promise more [censorship] in 2015":
[T]he Constitution does not create a right not to be offended. The First Amendment platitudes draping Mason's call for a more "inclusive" campus climate (that, oddly enough, would exclude unpopular speech) should fool no one. …
Call me cynical, but I have a hunch that "clarity in the procedures" might be code for restricting expression someone might not like. And how "better acquaint[ing]" new faculty with these restrictions will square with academic freedom is anyone's guess.
Like The College Fix on Facebook / Follow us on Twitter
IMAGE: Sam Graham/Flickr