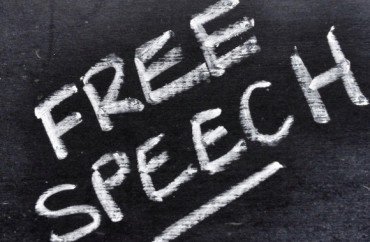 UPDATED
School gets negative 'Speech Code of the Month' award from watchdog group
The University of Kentucky this month received a dubious award from a campus watchdog group for their campus speech code that, in the words of the group, "threatens to seriously chill freedom of speech" and contains "literal speech police" as part of its governing mechanism.
The university's Bias Incident Response Team "[encourages] students to report on one another, and on their professors, for saying virtually anything that offends anyone else," the Foundation for Individual Rights in Education reports.
The Bias Incident Response Team, which the university's website states is the school's "official system for reporting acts of bias, hatred, and identity-based violence," defines a "bias incident" as any "activity that intimidates, demeans, mocks, degrades, marginalizes, or threatens individuals or groups," according to FIRE. These incidents can be "intentional or unintentional."
"This burgeoning 'if you hear something, say something' anti-bias campaign has serious implications for freedom of speech and conscience on campus," FIRE Vice President for Policy Research Samantha Harris writes.
In addition, Harris reports, Kentucky's bias team "includes not only staff from offices like the counseling center and diversity office, but also university police and campus conduct administrators."
"Short of official punishment, it is difficult to imagine a greater deterrent to free and open debate than knowing the administration is actively asking the campus community to anonymously report offensive speech to literal speech police," Harris points out.
According to the university's website, the school also offers "bias incident support services," which include "confidential support at the time of crisis," "advocacy for needed accommodations" and "trainings and workshops centered on increasing skills and knowledge needed to cultivate a culture of belonging."
CORRECTION: The original headline of this post quoted FIRE as referring to "thought police." FIRE, in fact, used the term "speech police." The post has been updated.
MORE: University of Michigan brings back the Soviet Union with its bias response team
IMAGE: Shutterstock.com
Like The College Fix on Facebook / Follow us on Twitter