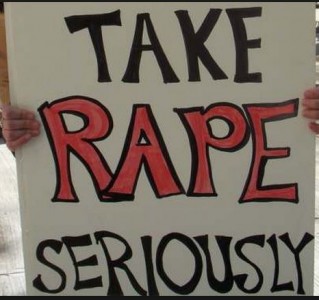 The Minneapolis Star Tribune may have the best rundown of the minefield that is affirmative consent that we've ever seen.
In its story today about the University of Minnesota's adoption of the affirmative-consent standard for sex between students, better known as "yes means yes," the paper says the rule "says that sex is OK only if both parties express consent through 'clear and unambiguous words or actions.'"
Beyond quoting critics such as Robert Shibley at the Foundation for Individual Rights in Education – who says the guilty-until-proven-innocent rule leaves accused students with "effectively no defense" – the article quotes backers of the rule making some eyebrow-raising statements.
Florida political consultant Alison Berke Morano, who helped launch the for-profit affirmative-consent advocacy firm Consent Game Changers, literally thinks that guilty-until-proven-innocent is the right way to handle rape allegations:
The problem, Morano said, is that the burden in cases of alleged sexual assault has been on victims to prove they were victimized.

"The accuser is always the one who has to prove that it happened," she said.
Yes, that's the foundation of the American criminal justice system. And rape is a crime, right?
Both this student leader and her provost clearly don't know what "due process" means:
Joelle Stangler, student body president at the U, said that's why students themselves have been demanding the change.

"Really, there's been a lack of due process for victims forever," she said. "We're now shifting and rebalancing, where both parties need to be able to demonstrate there was consent." …

But Karen Hanson, the U's provost, said she thinks the fears are overblown.

"We've still got tons of due process about these issues," she said, including the right to appeal. "I actually don't think there's any shifting of the burden of proof."
Don't worry, Hanson says – it's all educational!
Hanson, who serves on the presidential policy committee that endorsed the new approach, said she sees it mainly as a teaching tool. "We're in the education business," she said. "What this is trying to get students to understand is that silence doesn't equal consent."
Morano's for-profit firm, by the way, offers those "consent contracts" that made Antioch College the butt of jokes across the country in the early 90s (including a classic SNL skit). The Star Tribune says they are a "tactic to get the conversation started."
Of course, because consent can always be withdrawn under the typical affirmative-consent standard, getting a partner to sign a contract does nothing to protect a student whose partner later accuses him or her of sexual assault – to say nothing of partners who sign while drunk (sometimes construed as "incapacitation").
RELATED: Rollout Of Good2Go Sexual-Consent App Greeted By Confusion, Legal Questions
RELATED: Why the latest 'affirmative consent' app for college sex will never work as intended
Like The College Fix on Facebook / Follow us on Twitter
IMAGE: Consent Game Changers screenshot