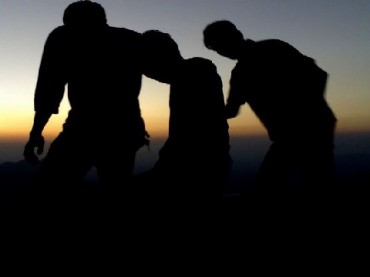 The University of New Mexico can't decide whether it supports or opposes free speech on campus, according to the Foundation for Individual Rights in Education.
The civil-liberties group called out the university as its "speech code of the month" Wednesday, highlighting its sexual harassment policy, which says
"[e]xamples of sexual harassment which shall not be tolerated" include "suggestive" letters, notes, or invitations. The policy also prohibits "displaying sexually suggestive or derogatory objects, pictures, cartoons, or posters," albeit with the vague disclaimer that such displays will be "evaluated for appropriateness such as art displayed in museums … ."
This is a hoot, because
According to The College Fix, this week, September 29–Oct 2 is "Sex Week" at UNM—a weeklong series of programs for students including "Negotiating Successful Threesomes," "O-Face Oral" and "BJs and Beyond." Sex Week is sponsored in part by the university's Women's Resource Center. Sex Week also violates the university's own speech codes, since even the titles of the workshops—and thus any Sex Week promotional materials—are "sexually suggestive."
And the school gave a spirited defense of Sex Week, pointing to its Freedom of Expression and Dissent policy, which says the "appropriate response" to speech that is "offensive, even abhorrent," and causes "discomfort" is "speech expressing opposing ideas and continued dialogue, not curtailment of speech."
FIRE says this shows how "universities speak in lofty terms about the importance of free speech when it is politically convenient—and then throw it under the bus when it isn't."
Read the full FIRE post here.
Like The College Fix on Facebook / Follow us on Twitter
IMAGE: Morkiro/Flickr
Like The College Fix on Facebook / Follow us on Twitter