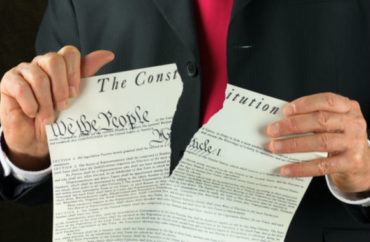 What policy did they violate? Administration refuses to say
The University of South Carolina is refusing to say how a so-called Zoombombing incident violated school policy, or how its threats to punish the perpetrators are compliant with the public institution's First Amendment obligations.
President Bob Caslen released a letter to the community last month, denouncing the "cowardly" perpetrators for "hateful," "offensive," "despicable" and "terrible" acts, but failing to list any policy violations.
Unknown users joined a Zoom conference hosted by the university's Association for African American Students on April 24 and started posting offensive images and making racial comments, according to members' tweets and video of the incident. One user can be seen in blackface, and another has a Nazi swastika behind him.
The person who posted the video speculated the unknown users were "teenagers" and asked white people to "PLEASE check your kids."
*NSFW* The language is very intense but this just happened on our Zoom call. We were having a little party courtesy of the African American Association of Students when some random racists/neo-nazis, i assume teenagers, jumped on the meeting. white ppl: PLEASE check your kids pic.twitter.com/tqejErwS06

— aidan b. (@aidannbaker) April 24, 2020
While Caslen claimed the unknown users "hacked" into the conference, the AAAS Twitter account posted the meeting ID number hours before the meeting. "Tune in tonight for our annual AAAS COOKOUT!" the tweet read. "Just because we're social distancing doesn't mean we can't be social! Hope to see you there!"
While Caslen told the community that the Division of Information Technology asked Zoom to investigate the incident, and that UofSC's Office of Equal Opportunity Programs was "prepared to investigate" if students were involved, the university did not specify what exactly it wants to know from Zoom or what it's investigating.
Asked if the conference really suffered hacking, a Zoom spokesperson gave The College Fix the same response it has given to other media, saying it has "updated several features to help our users more easily protect their meetings," such as meeting passwords and "virtual waiting rooms by default."
The Office of Equal Opportunity Programs did not respond to Fix questions about the current status of the investigation, and university spokespeople either referred The Fix to others or declined to answer questions.
The student government also issued a statement condemning the Zoombombing: "Discrimination of any form will not be tolerated within our university and those responsible for this hateful act will be held accountable." Asked what punishments it would like to see enacted and whether they could violate the First Amendment, Student Body President Issy Rushton directed questions to a university spokesperson.
MORE: UT rationale for threatening Zoombombers may be unconstitutional
Tune in tonight for our annual AAAS COOKOUT! Just because we're social distancing doesn't mean we can't be social! Hope to see you there! pic.twitter.com/NXYSmnbvKd

— AAAS (@AAAS_1968) April 24, 2020
Implies university punishes speech 'contrary to the values we hold as Gamecocks'
Several Zoombombings have occurred in the weeks since online learning and online socializing largely replaced on-campus instruction and social activities, due to the COVID-19 pandemic.
UofSC's response mirrors that of the University of Texas, which also promised to punish any students found to have participated in the Zoombombing of a black campus organization. President Greg Fenves used similar language as Caslen's, condemning the racial content of the intrusion rather than the violation of a content-neutral university policy. (The UT incident also did not appear to be a "hacking" but the public sharing of a meeting login.)
As public universities, UT and UofSC cannot punish students based on the content of their speech without running afoul of the First Amendment. After The Fix inquired about the basis for the threatened punishment, UT provided a content-neutral rationale for the first time.
In an April 24 statement on the incident earlier that evening, AAAS tweeted that "unknown persons entered" its virtual cookout "and proceeded to post a plethora of images, videos and messages containing racist slurs and derogatory terms."
Twenty minutes earlier, President Caslen had tweeted that the Zoombombing was "absolutely unacceptable & disgusting." He said the intrusion was marked by "ignorance" but didn't state a policy basis for the investigation he ordered.
AAAS also made clear it was seeking punishment for those users who logged into its meeting using the link it made public. "We are working as hard as we can to advocate for the rights of our students and ensure these individuals receive the consequences they deserve," its statement read.
MORE: University of California can't legally ban phrase 'Chinese virus'
What happened at the AAAS Cookout is absolutely unacceptable & disgusting. I can't apologize enough to the @UofSCstudents who witnessed such ignorance while gathering to fellowship with one another during this unprecedented time. University officials are aware & are investigating

— Bob Caslen (@Bob_Caslen) April 25, 2020
Caslen's April 25 statement, which is still his most recent as of Monday night, explained the steps the school will take to hold the Zoombombers accountable. Like the other statements in response to the Zoombombing, Caslen failed to allege what policy if any the perpetrators violated.
Instead, he repeatedly denounced the content of the "reprehensible" intrusion and implied that the taxpayer-funded university will punish speech that "runs contrary to the values we hold as Gamecocks."
The Foundation for Individual Rights in Education gives the university its lowest speech-code rating, a "red light," meaning it has "at least one policy that both clearly and substantially restricts freedom of speech."
One of those policies is the "Carolinian Creed," cited by Caslen, which requires members of the university community to agree to several restrictions on their constitutionally protected speech. For example, members must pledge to avoid "ridiculing" and "insulting" others, affirm that others need "conditions which support their work and development," and refrain from behaviors that are "insensitive" or "unjustly or arbitrarily inhibit other's ability to feel safe or welcomed in their pursuit of appropriate academic goals."
The creed appears to undermine the university's non-discrimination policy, which states: "The University vigorously embraces students' rights to the legitimate freedom of expression, speech, and association. Nothing in this policy is intended to impede the exercise of those rights protected under the First Amendment of the U.S. Constitution."
Caslen's statement didn't explicitly say the university will punish the perpetrators if any is found to be a student. "We will be vigilant in responding to this incident" was as far as he would go.
Several staff members declined to comment, including Peggy Binette, the school's communication director. She directed The Fix to Jeff Stensland, director of public relations, to answer questions about the university's response and evidence for Caslen's "hacked" accusation.
After many emails and calls from The Fix seeking the current status of the investigation and the university's explanation of how its response comports with its First Amendment obligations, Stensland avoided a direct answer.
"The incident is still under investigation so it's not possible to share additional details at this time," Stensland said. AAAS did not reply to questions regarding if it screened potential attendees after they entered the meeting code it had made public hours before the virtual cookout.
MORE: UofSC invites students to sign their own expulsion papers
IMAGE: Mike Focus/Shutterstock
Like The College Fix on Facebook / Follow us on Twitter