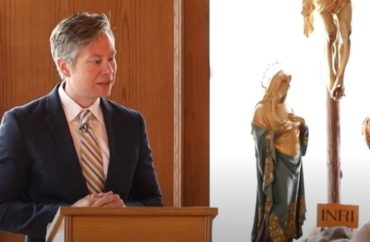 The program 'begins with the affirmation of the reality of beauty as the splendor of form, the splendor of truth'
A Catholic poet is leaving Villanova University to lead a new creative writing master's degree program at the University of St. Thomas that will start this fall.
James Matthew Wilson (right) will be a founding faculty member of the new Master of Fine Arts in Creative Writing Program at the Catholic university in Houston.
The degree program "begins with courses in the craft of poetry and fiction that complement the workshops." There will be workshops on poetry and "Art and Culture," according to the course plan.
"We will place even greater emphasis than most other programs on the cultivation of craft, because our curriculum is thoroughly integrated," Wilson told The College Fix via email.
The program has a deeper theological and spiritual element not often found in other MFA programs.
Wilson said:
Our program's foundation in the Catholic intellectual and literary tradition begins with the affirmation of the reality of beauty as the splendor of form, the splendor of truth. We understand that an encounter with the beautiful is not a mere appearance but an encounter with reality in the most profound sense. The arts have an integrity because they are among the most significant ways we encounter the Real, and it is through that encounter that our souls are awakened, transformed, and raised up toward their destiny.
Wilson said he has hopes that the program will "bear wide and far-ranging fruit: new literature, good books, will come from it."
He said "these individual good things…will arise a true renewal of both American culture at large and the culture within the Catholic Church as well."
The program will help students complete "two book-length manuscripts, an original work of either fiction or poetry, and a collection of literary essays" meant "for a general or lay audience."
While the program is distinctly Catholic, the degree is open to a variety of students, and not necessarily students with a theological or writing background.
He said:
We made our program primarily an online program precisely because we believe most people who would benefit from an MFA program are those who already have a profession, who already have significant life experience beyond their schooling, and are anxious to fulfill long-held ambitions to write well. We've managed to make the program extremely flexible so that any person who fits that description should be able to come work with us.
Wilson said the program also seeks younger applicants and students right out of their undergraduate degree program.
"We have already applicants from several walks of life, including several from the religious life," Wilson said, referring to people who are nuns, monks or priests. "We have people with flourishing careers who are ready to get their first book or two completed."
"We will succeed to the extent that we fulfill a need that has been real and longstanding," Wilson said. "A few months in, I think we have reason to hope."
Courses include the "Foundations of the Catholic Literary Tradition" and "The Catholic Imagination in Modern American Literature."
MORE: College students need biblical education to appreciate the humanities
IMAGE: Catholic Art Institute/YouTube
Like The College Fix on Facebook / Follow us on Twitter