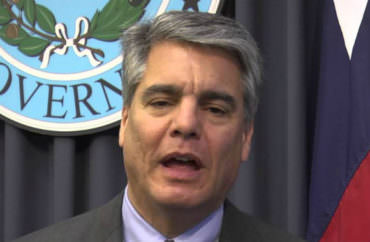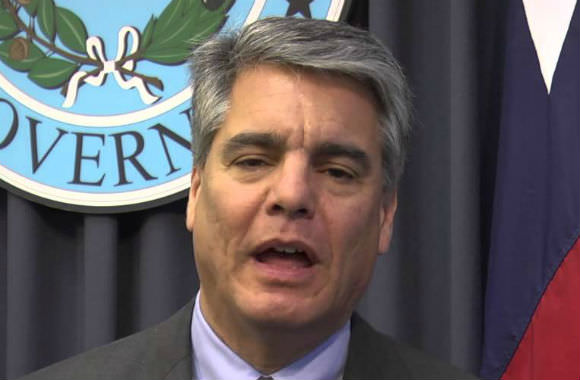 It's our academic freedom, not yours
The University of Texas-Austin was not a fan of state legislation to allow students to carry concealed handguns on campus, which took effect nearly two years ago.
But President Greg Fenves (right) has interpreted the law, which gives schools some leeway to decide which areas are off-limits to guns, to require that guns be allowed in classrooms.
A year after a federal judge threw out a challenge to the law by three professors who said the law infringed on their academic freedom by chilling discussion in class, UT-Austin is now in the awkward position of telling an appeals court that its faculty don't really have academic freedom.
The Austin American-Statesman reports that the public university is saying one thing in legal arguments and another thing to the public, in a bid to convince the 5th U.S. Circuit Court of Appeals to uphold last year's ruling against the three professors:
"The right to academic freedom, if it exists, belongs to the institution, not the individual professor," says a brief filed by the state's lawyers on behalf of UT President Gregory L. Fenves, several current and former UT System regents and Attorney General Ken Paxton. …

After the American-Statesman began asking questions about UT's legal stance in the case, Fenves sent a letter Wednesday to faculty leaders seeking to reassure them.

"Because of the importance of faculty members' rights, I want to be clear that the academic freedom of our faculty to express, learn, teach, and discover is at the very foundation of the University of Texas at Austin's mission," Fenves wrote. He added that he is "unable to address any specific legal questions."
MORE: You can't allow guns in class because we teach abortion
The school claims faculty are already protected by a Board of Regents policy that says they are allowed to do research and discuss their subjects in class, as long as they don't introduce "controversial matter that has no relation" to what they teach.
The argument is a reversal from the university's original response to the professors' lawsuit, which said the campus-carry policy "does not implicate [their] First Amendment right to academic freedom." The new argument appears to be driven by Attorney General Ken Paxton, who has the authority to choose which legal arguments to make on behalf of public universities.
The Faculty Council isn't happy about the legal argument: Secretary Alan Friedman said it contradicts the American Association of University Professors' 1940 statement on academic freedom, "the gold standard on the issue of academic freedom."
The issue may be beside the point, since the 5th Circuit is only being asked to send the case back to the trial court for evaluation of the professors' claims that the policy violates the 14th Amendment and Texas gun policy is not "well-regulated" under the 2nd Amendment.
MORE: New women's gun group shows popularity of Texas campus carry
h/t Peter Bonilla
IMAGE: Governor Perry/YouTube
Like The College Fix on Facebook / Follow us on Twitter