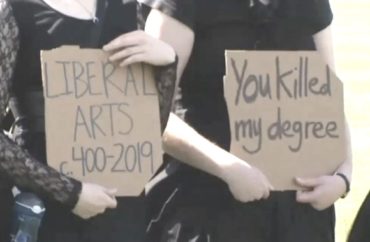 The University of Tulsa is preparing to undergo a dramatic downsizing of its College of Arts and Sciences, one that will completely eliminate the philosophy, religious studies, dramatic arts and some language degrees, among other cuts.
"After months of careful review and assessment of our current academic offerings, the university decided to reduce the number of degree programs offered by 40 percent," the university stated. "While this may seem significant, only 6 percent of our current students are enrolled in one of these programs for their primary degrees."
But the decision, unveiled earlier this month, has prompted both professors and students to protest.
On Friday, a "funeral" for the liberal arts was held. And a recently launched petition seeks to "save the heart and soul of University of Tulsa," arguing the cuts are actually a result of financial mismanagement and they will negatively impact academic rigor at the school.
"[M]ore than 246 students at the University of Tulsa were just told by the administration's actions that their majors are unimportant, inconsequential, and irrelevant. And that is unacceptable," the petition states.
The university's new plan will be phased in over time and is not expected to impact current students. It aims to offer interdisciplinary degrees and minors that will incorporate engineering, natural sciences, professional programs and arts and sciences studies into a combined "university studies" program.
The College of Arts and Sciences will be further reduced to solely include four interdisciplinary degree programs: "Fine Arts and Media," "Humanities and Social Justice," "Human Biology and Behavior," and "Ecology, Environment, and Sustainability."
The University of Tulsa just abolished its traditional departments, including Economics and PoliSci.

Instead, it now has four broad divisions called "Ecology, Environment & Sustainability," "Human Biology and Behavior," "Fine Arts and Media" and… "Humanities & Social Justice." pic.twitter.com/9hvKBDov6j

— Yascha Mounk (@Yascha_Mounk) April 16, 2019
The move is projected to drastically reduce the number of degree paths available to future students, but administrators argue those that remain are worthy of pursuit.
"The number of college-going high school graduates will drop beginning in 2025. As well, automation, artificial intelligence, machine learning, predictive analytics, advances in the neurosciences and cybersecurity will be major influencers in the job market and, therefore, the work of universities," campus officials stated in rolling out the plan.
The president of the University of Tulsa, Gerard Clancy, stated higher education ought to be something that "prepares a person for a meaningful life."
"A great university must be able to provide great value to its graduates," Clancy said. "A university experience must be worth it financially, and this translates to the central role of preparing the whole person for a pertinent job in a meaningful life."
But some professors argue campus leaders are being disingenuous in suggesting the motivation for the changes is student-driven; rather, they are the result of financial mismanagement.
In a lengthy Twitter thread, University of Tulsa political science Professor Matthew Dean Hindman pointed out that the "common response to financial mismanagement—driven by factors that have nothing to do with fields like philosophy, languages, theater, or fine arts—has been to eliminate those fields seen to have little impact on 'career skills,' narrowly defined."
Lots of people are paying attention to @utulsa's disastrous rollout of its cartoonishly bad plan to eviscerate the liberal arts. This is where my research and my life as a scholar intersect. Time for a brief explainer on what it means to "neoliberalize" a university. 1/n

— Matthew Dean Hindman (@ProfHindman) April 14, 2019
"At #utulsa, previous administrations made awful financial decisions, including building expensive new buildings, buying things that are cool to have (Bob Dylan's archives!) but do not generate revenue, etc.," Hindman stated. "The common response to financial mismanagement—driven by factors that have nothing to do with fields like philosophy, languages, theater, or fine arts—has been to eliminate those fields seen to have little impact on 'career skills,' narrowly defined."
And Jacob Howland, a professor of philosophy at the University of Tulsa, wrote a piece for City Journal stating that "it became clear some years ago that TU was in financial trouble."
"Faculty have had no raises since 2015. That same year, President Steadman Upham (whose compensation in 2014 exceeded $1.2 million) informed the campus community that the university was providing athletics with a $9 million annual subsidy. The total deficit in 2016 was $26 million," Howland wrote.
In a statement to The College Fix, Howland argued the humanities are being unfairly singled out by the university: "It's hard not to feel that we were singled out, in spite of our stellar records of teaching and scholarship."
What's more, Howland said that the move would hurt students in other ways.
"Arts and Sciences will be responsible for teaching entry-level courses to all entering freshmen across all colleges in a new 'University Studies' program," he said. "We wouldn't be able to staff these (large and very undesirable) courses without freeing up professors from other obligations."
"It should also be noted that well over 50 percent of the courses taught in the Honors Program are taught by professors of philosophy, religion, Greek, Latin, German, French, and Chinese."
Howland told The College Fix that the University of Tulsa student association voted no confidence in the restructuring plans. Its law school also passed a resolution stating that it would not implement major elements of the plan in the coming school year. But he said these are temporary measures, and administrators intend to continue the reorganization in upcoming years.
I've been trying to withhold judgment about @utulsa's decision to re-organize the university and eliminate scores of humanities programs. It sounded like a bad idea, but I didn't have time to read about it, so I figured I'd wait until the weekend. BUT . . .

— Nick Carnes (@Nick_Carnes_) April 12, 2019
Meanwhile, demonstrations on Friday included a funeral for the liberal arts, with speakers and a sarcophagus with "in memoriam TU programs RIP" written across it.
Here's some more of what I'm seeing here at the University of Tulsa – the last one says "In Memoriam TU programs RIP" in case that's hard to see.
It appears pre-planned student speakers are having their turns talking before we go to open mic format. pic.twitter.com/BqtWibllV9

— sam (@samanthavicent) April 19, 2019
The petition condemning the proposed changes has gathered some 4,500 signatures so far.
The author, student Michael Orcutt, stated in the petition: "We demand that the administration immediately reverse 'True Commitment,' its decision to cut undergraduate programs in Philosophy, Religion, Theater, Musical Theater, Music, Languages, Law and graduate and doctoral programs. The purpose of a university is beyond only job acquisition. Universities are meant to foster the educational pursuits of students and professors alike. 'True Commitment' only serves to stifle this function."
But UC Berkeley Professor Steven Hayward, a noted conservative scholar who often analyzes higher education trends, wrote on the Tulsa situation that there may be no way to change course.
"I've been predicting for some time now that more and more universities would essentially split into two separate universities, with STEM and more practically-useful social sciences like economics (along with business management) becoming a university that understands itself entirely separate from the humanities and politicized/ideological social sciences, which will be allowed to wither and die. Tulsa is now a prime exhibit. Sounds like it deserves to die," Hayward wrote on Power Line.
MORE: Two in five elite liberal arts schools have no full-time Republican professors
IMAGE: Internet screenshot
Like The College Fix on Facebook / Follow us on Twitter