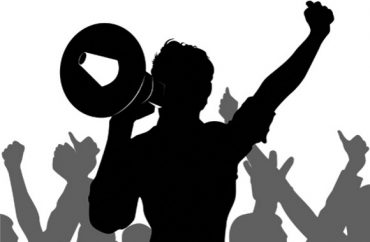 First-year law students at the University of Washington interrupted a lecture by the dean of the School of Law last week to highlight the "erasure" experienced by "marginalized" students.
Dressed in all black with some putting tape across their mouths featuring the word "SILENCED," The Daily reports the student demonstrators asked Dean Mario Barnes several questions, including why there are so few minority professors teaching law.
Other queries included why racist and transphobic professors "are not held accountable," and why there are no Native American law students at UW.
The protesters also presented Barnes with a list of demands which includes more faculty and students of color, and more resources for the required first-year course "Introduction to Perspectives on the Law."
The "Perspectives" class, according to the report, "is the only required course in which students are given space to critically examine and discuss the racist and patriarchal foundations of the American legal system." Of the five professors who teach it, only one is a minority.
The demand letter notes the law school core curriculum "strips the identity of marginalized students" because it disregards how they're "treated differently in the justice system."
This is not the first-time student activists have spoken out against institutional racism within the law school. Notably, in 2016, concerned students published an open letter declaring a state of emergency and demanding "a radical increase in the representation of diverse communities at the law school."

Karla Davis, a third-year Latinx student who showed up to Monday's demonstration to support the first-year activists, says that "over the last few years, a group of us students have sought to enact change within the law school to little avail because of the administration and faculty's insistence on pandering to white, ruling class views on the law."

In an email to the school on Tuesday, Dean Barnes wrote "I hear your concerns, and we are taking action." The Dean expressed that he hopes to find time for "an in-depth public dialogue about these extremely important topics" before the end of the month.
Student Cristina Rico complained that she feels "invalidated" because there's little discussion in her classes about "the history racism and discrimination" in the legal system.
Marcena Day added that people of color are weary of having to educate their peers and professors about racism, and she demanded law school faculty "be trained to facilitate class discussions where there are racist undertones in our cases."
MORE: U. Wisconsin activists make demands in wake of homecoming video
MORE: Harvard students make 'diversity' demands for its Kennedy School
IMAGE: Shutterstock.com
Like The College Fix on Facebook / Follow us on Twitter