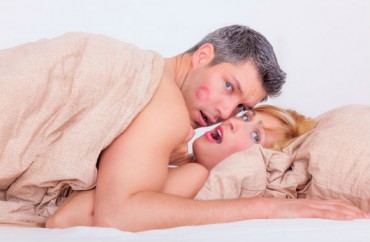 Sessions meant to help students 'make healthy and informed decisions about sex and sexuality'
Vanderbilt University, an elite private university in Nashville, Tennessee, is offering its students a variety of sexual workshops, among them fetish and LGBT-centric sessions, meant to "[arm] undergraduate peer educators with the knowledge and tools necessary to help both themselves and their peers make healthy and informed decisions about sex and sexuality."
The workshops are being offered through the Women's Center at Vanderbilt University. The sessions, according to the center's webpage, focus on "a range of topics related to sexuality, including birth control, contraceptives, and STI prevention as well as fostering communication skills in romantic partnerships."
The website lists four workshops available to students. "Let's Talk About Sex" is listed as the school's "sex ed 101" workshop, which touches on numerous basic sexual education topics including, according to the webpage, "birth control, anatomy, consent, and more."
"Let's Talk About Virginity" is advertised as "a program that provides a brief history of the term 'virginity,'" while also encouraging "open dialogue about what virginity means in social, cultural, and religious contexts."
In addition to those workshops, the Women's Center offers two nontraditional sex ed programs involving fetishes and lesbian, gay, bisexual and transgender sexuality.
"Let's Talk About Kink" is described as "an introduction to BDSM and kink culture." BDSM, which is often associated with the 50 Shades of Grey trilogy, encompasses sexual practices such as bondage, discipline, dominance, submission, and sadomasochism. The website explains that the workshop covers "how to navigate consent, scene negotiation, and personal safety."
"Let's Talk About Queer Sex," meanwhile, is a program designed for the LGBTQIAP+ community that "seeks to provide a safe space for open discussions about holistic sexuality."
Though the website does not explain the meaning of the extensive anagram, Amherst University's Queer Resource Center states that the letters represent the terms lesbian, gay, bisexula, transgender, queer and questioning, intersex, asexual and pansexual. The "plus" sign is meant to encompass all other sexual identities not covered by the acronym.
It is unclear what "holistic sexuality" refers to. When asked by The College Fix for additional information on the virginity, kink, and queer sex workshops, Women's Center administrative assistant Libby Crew referred The Fix to program coordinator Molly Moreau.
When reached via email, Moreau referred The Fix to Vanderbilt University's public relations office. From there The Fix was referred to Public Affairs Officer Joan Brasher, who did not respond to a series of emails about the workshops.
In addition to advertising the workshops, the sexual education webpage offers a link to the department's Sexual Health Resources Page, and a Condom Request Form for Resident Advisers offering sexual health programs.
The Women's Center at Vanderbilt offers a variety of other programs, including a "Salary Negotiation Workshop" and a "Feminism 101" program. The feminism workshop "offers some definitions of feminism" and promises to give participants "a more nuanced understanding of feminism and, we hope, a willingness to question their assumptions about feminism."
MORE: Chicago dungeon master to teach college students BDSM practices
MORE: University's Sex Week to teach women how to have anal sex with strap-on dildos
IMAGE: altafulla / Shutterstock.com
Like The College Fix on Facebook / Follow us on Twitter