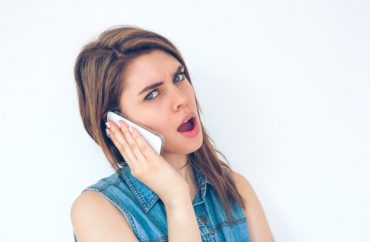 Coming soon to the University of Oklahoma — a "24/7/365 multilingual" complaint hotline that promises to be a "safe place" for students to voice concerns over issues such as bias incidents and bullying.
The cost of the service, billed as a "bias hotline" by the company manning it, is $15,000 per year, according to the contract, a copy of which was obtained by The College Fix through a public records act request.
The contract with the Los Angeles-based Greenwood Hall states its employees will be available "24/7/365 via phone, text or web chat" for calls and that the service will be "multilingual." The company will act as a middle man of sorts, keep a record of all complaints, and direct callers to already established campus resources for further help.
University of Oklahoma diversity officials declined to be interviewed on the need for the service. In a prepared statement, University of Oklahoma Vice President for University Community Jabar Shumate said the new system will play "a critical role in our strategy to effectively respond to incidents of bias."
The system is described in the contract as a "safe place" for students, employees and other members of a campus community to report bias incidents and other problems — such as bullying, hazing, violence, discrimination and assault — and obtain referrals to resources. The company is not a 9-1-1 dispatch nor does it offer mental health counseling, its contract states.
MORE: Snow penis reported as bias incident
A university spokeswoman told The College Fix the hotline is scheduled to be operational by the beginning of the fall semester, that officials "wanted to ensure that the hotline interacted with other report systems already in place."
The contract stipulates that the $15,000 per year, billed monthly at $1,250, is the annual base subscription fee for the service. If the number of calls gets too high, more than five per day, the company can bill the university a $50 surcharge for each day the limit is exceeded, and will charge $9.50 per report received over the daily allowance.
According to John Hall, chairman of Greenwood Hall, his company provides a valuable service.
"Incidents of discrimination, bullying, harassment, and misconduct continue to be serious issues on our college campuses," he said in a news release announcing the hotline at the University of Oklahoma. "All too often, these incidents go unreported. … Safe Campus provides a neutral, centralized, and safe medium for members of the campus community to report incidents and obtain help in rectifying concerns that impact the well-being of the entire community."
MORE: University forms 'first responder … Bias Response Team'
Since the release of a video of Sigma Alpha Epsilon fraternity brothers at University of Oklahoma chanting racist phrases on their way to a date party in March 2015, the university has taken tremendous steps to tackle campus racism. Two college students were expelled and the fraternity no longer exists on campus.
Like The College Fix on Facebook / Follow us on Twitter
Like The College Fix on Facebook / Follow us on Twitter