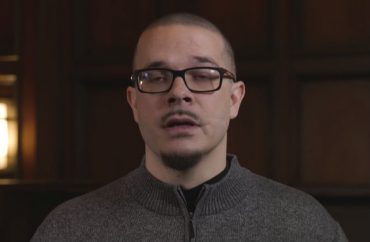 He's admittedly obsessed with the 'disgusting' president
In order to "promote diversity and inclusion" on campus, Texas Christian University paid a Black Lives Matter activist $5,000 to call President Donald Trump a rapist.
Shaun King, a New York Daily News columnist with a reputation for mocking students who ask him tough questions, told a student audience that he has "written probably over 100 articles about Donald Trump and I follow his news very closely," according to the conservative campus newspaper The Freedom Frog.
"I think he is terrible human being," King said, adding later: "I think [Trump] is a disgusting person."
The event was hosted by TCUnity, a "student-led initiative to promote advocacy for diversity and inclusion" that started last year, as part of its "Unity Week" last week.
MORE: Shaun King inserts himself into Ole Miss 'lynching' protest
The group chose King, who has said he is three-quarters white, as an ideal speaker to discuss race relations.
The student government covered King's $5,000 fee, saying in an approved bill that King would be "beneficial to educate students, faculty, and staff on racial and ethnic issues by facilitating open dialogue and conversations to better TCU's social climate and … understanding on these issues for all students."
The bill also justified King's appearance by citing recent student protests on campus and a "list of demands," likely referring to demands made by the "Black Students And Allies Of TCU."
Their list called for a 10 percent increase in nonwhite faculty, a "zero tolerance policy for racially insensitive and hateful speech," and a $100 million endowment to "support minority students."
They also demanded "the flag be lowered when people of color around the nation are murdered by people who are supposed to protect and serve."
List of Demands by Tamera Hyatte on Scribd
Official campus news organization TCU360 focused on King's description of the Trump era as "crazy times," his discussions about violence against black men and the "selfies" he took with audience members.
The Freedom Frog, on the other hand, noted that King brought up decades-old rape accusations against Trump by his then-wife, Ivana.
MORE: Shaun King bullies students who ask him tough questions
"His first wife testified under oath that he brutally raped her and violently assaulted her and pulled out huge chunks of her hair. She told her friends about it," King said. "That should have been the end of his career, that was in 1989."
Trump has consistently denied this, and in 2015 Ivana Trump called the allegations "without merit" and said she was the "best of friends" with her ex-husband.
King also encouraged students to try to "force your college's hand" to become a sanctuary campus that doesn't cooperate with federal immigration authorities.
Fox 4 said that King told the station it wasn't his decision to close the event to outside media.
Much fanfare for Shaun King, none for Allen West
"I thought Mr. King's speech was very divisive," not to mention ironic, TCU College Republicans President Matt VanHyfte told The College Fix.
"With it being TCUnity Week, I find it incredibly unfortunate that TCU's Student Government Association (SGA) decided to bring someone that only causes division between groups of people rather than unifying them," he said in an email.
It was "irresponsible" of SGA to not bring another speaker with "countering and opposing views … so students have the ability to see both points of view and develop their own opinions," VanHyfte said.
MORE: Black students issue demands because of black student's offensive cartoons
Andrew Wilbraham, a junior economics major, contrasted the administration's hype of King's speech with its silence when retired U.S. Army Lt. Colonel Allen West, a former Republican congressman, spoke on campus.
West visited TCU last April at the invitation of the Young Americans for Freedom chapter. Several students questioned his past statements, but a rumored plan to shut down his speech never materialized.
Campus leaders have "picked a side on the political spectrum," Wilbraham told The Fix. "They never missed a step when advertising Shaun King's speech, but when Allen West came to speak … you wouldn't have even known."
TCU provides 'diverse learning opportunities'
TCU junior Annabel Scott, editor-in-chief of The Freedom Frog, said her family "pays a significant amount of money for my education at TCU" and she was "deeply disappointed in TCU's decision to fund King's appearance on campus."
Sophomore Lauren Dooley praised TCU for welcoming "speakers of all opinions, backgrounds, and purposes," but told The Fix that King's role in Unity Week was odd.
MORE: Students walk out of Allen West speech because he says 'radical Islam'
"It's just confusing when one comes per request of the university for 'unity week,' a movement all students have gotten behind, but preached disgust towards our students who supported our current president before ideas on how to improve race relations," she said.
An administration spokesperson told The Fix that it had nothing to do with the King invitation, but said TCU provides "diverse learning opportunities" for students.
"Many student- and faculty-led organizations throughout the Texas Christian University community sponsor a variety of campus speakers in any given academic year," he said. "The university does not support political, ideological or personal statements associated with any of them."
MORE: 'White Student Union' releases hilarious 'list of demands'
Like The College Fix on Facebook / Follow us on Twitter
IMAGE: The Young Turks/YouTube