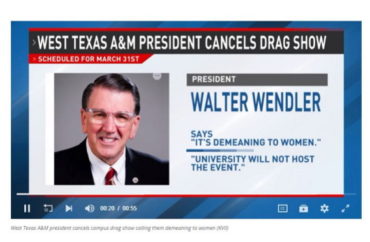 West Texas A&M University President Walter Wendler was within his rights to cancel a campus drag show, his attorneys argued in a recently filed response to a First Amendment lawsuit brought against him by the student group Spectrum WT.
The lawsuit was filed after Wendler canceled a drag show planned for March 31 at the public university, arguing drag shows are "demeaning" to women and "demoralizing misogyny."
The lawsuit alleges Wendler acted with a "retaliatory and oppressive intent toward [Spectrum WT] in reckless and callous disregard for their clearly established constitutional rights."
In an argument to dismiss the lawsuit, filed May 5, Wendler's attorneys state drag shows are not "inherently expressive" and universities are allowed to "prohibit lewd conduct and speech."
West Texas A&M University declined to comment to The College Fix on the ongoing litigation.
"Plaintiffs do not have a constitutional right to put on a lewd drag show on campus. No authority says they do," Wendler's attorneys argued.
"Defendants were within their rights to assume that the requested drag show might be lewd. There is absolutely no authority—and plaintiffs cite none—establishing the constitutional right to hold a drag show on a public university campus, lewd or otherwise."
West Texas A&M University does have a policy that prohibits "disruptive, lewd or indecent" behavior, Wendler's attorneys stated, adding the proposed March 2023 event was also advertised as "PG-13."
Wendler and his attorneys also argue drag shows are not protected by the First Amendment because they do not meet the requirement to be considered "expressive conduct" under the FAIR ruling. That 2006 precedent was established in the Supreme Court ruling in Rumsfeld v. Forum for Academic and Institutional Rights.
"It is simply untrue that—as a matter of law—all drag shows inherently express points of view," the response argued. "The supposed messages of drag shows cannot be understood without explanatory speech."
However, free speech activist and president of the Institute for Free Speech, David Keating, did not entirely agree with Wendler's argument or the relevance of the FAIR case.
"The FAIR ruling isn't all that relevant to this case. In that litigation, law schools did not want to provide military recruiters equal treatment with other recruiters allowed on campus, arguing that it violated their associational rights," Keating told The College Fix. "Mostly Wendler argues that drag shows are not expressive conduct, but that's wrong."
Wendler's response also argued that drag shows exhibit "lewd conduct," which colleges and universities have the right to restrict. Under Fifth Circuit precedent, universities have a unique ability to restrict offensive and vulgar conduct without infringing on First Amendment protections, it argues.
"President Wendler could reasonably assess that a purported drag show might be offensively lewd or indecent, and therefore disapprove the show without violating the First Amendment (even assuming that all drag shows have inherent expressive conduct, which they do not)," it states.
The students' complaint also asks to hold President Wendler personally liable and seeks punitive damages from the campus leader.
But the university president is entitled to "qualified immunity" against the charges brought against him by the student organization Spectrum WT, his attorneys argued.
Qualified immunity "protects a government official from lawsuits alleging that the official violated a plaintiff's rights, only allowing suits where officials violated a 'clearly established' statutory or constitutional right," according to Cornell University Law.
Keating argued "a ruling for the plaintiffs is unlikely to break new First Amendment ground, but would help remind universities of their duty to respect our free expression rights."
"While Wendler can urge people not to attend the show, he cannot and should not attempt to censor it."
"The First Amendment is not optional for public university presidents," FIRE, the civil liberties organization representing Spectrum WT, wrote in a March news release. "Despite Wendler's refusal to protect the constitutional rights of his students, the First Amendment requires that the show must go on."
But, in fact, the show did go on. Spectrum WT "held the drag show on April 1 at a public park," Wendler's attorneys pointed out.
MORE: University hit with First Amendment lawsuit for canceling drag show
Like The College Fix on Facebook / Follow us on Twitter