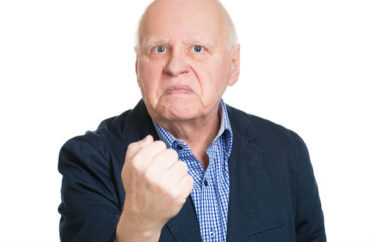 Stop sending your drafts to sources!
There's a no-fuss option when a student journalist asks you for comment on other people criticizing you: No comment.
That's not the path Liberty University President Jerry Falwell Jr. took when the Liberty Champion asked for his take on a nearby event featuring "speakers critical of Falwell, in particular his outspoken support for President Trump, for whom he acts as a faith adviser," Religion News Service reports.
The leader of the gargantuan evangelical university in Virginia, whose online offerings push its enrollment above 110,000, used a coded censorship threat to kill whatever story the Champion might have published on the "Red Letter Revival" gathering of left-wing evangelicals that took place in Lynchburg last weekend.
Coverage was definitely relevant to the university community since the event involved Liberty students, and Falwell was asked for his take because an organizer mentioned him in an interview, according to Erin Covey, assistant news editor.
Keep in mind that the Champion already operates under quasi-censorship conditions when you read Covey's actions:
She said she pursued the story with the approval of her fellow editors, including the Champion editor-in-chief and a faculty adviser. …

"Obviously this was something that we knew (Falwell) would either want to comment on, or at least, definitely, review it before publication because it's going to mention him," she said on [April 6].

But Covey said that after she contacted Falwell via email, he responded by instructing her not to write the story. A screenshot of his email to her was shown to Religion News Service with the sender's name and email address cropped out. It said: "No let's not run any articles about the event. That's all these folks are here for — publicity. Best to ignore them." …

Other Liberty students who saw the email from Falwell corroborated Covey's account but didn't want to be identified for fear of the consequences.
Covey said Falwell never responded to her followup message explaining that mainstream media would be covering the event, and he didn't have to. There's no evidence the Champion published anything after Falwell's soft censorship play.
Many Champion practices trouble me, and they show the corrosive effects of practicing journalism under the constant threat of censorship or (in Liberty's case) defunding a university-funded paper.
Covey said it's "fairly common" for the paper to show pre-publication final drafts to faculty or administrators who are quoted, and sometimes administrators literally kill stories, though she said Falwell's direct warning was the first to come from him.
It creates Stockholm Syndrome among journalists. Even as Covey lamented that the administration has sought to make the Champion "more a PR vehicle for the university than a newspaper," she says it's "understandable" that the private university censors and intimidates its student journalists. It certainly makes a mockery of Liberty's journalism program.
Every so often one of our student reporters asks if they can share an article pre-publication with a source, and the answer is always no. The source can be shown their quotes for the sake of accuracy if the interview was conducted orally, but that's it. Anything more encourages sources to line-item veto the story as if we're their speechwriters.
I don't know if the Champion functionally has a choice when it offer up its final drafts for evisceration or sacrifice when it sends them to sources before publication, but it certainly emboldens those who deal with the Champion to treat it as a propaganda rag rather than a real newspaper.
If you want to see coverage of what happened at the Red Letter Revival, Vox has a report. The Foundation for Individual Rights in Education also has a big-picture analysis of free speech at religious colleges, where the Champion incidents (Liberty also killed an anti-Trump opinion column last year) are discussed.
One of the speakers, the vocal Falwell Jr. critic Shane Claiborne, alleged he was threatened with arrest after he sent Falwell Jr. "a sincere request to pray with us" at the event.
BREAKING: I sent @JerryFalwellJr a sincere request to pray with us at the #LynchburgRevival. His response? A letter threatening up to a year in jail and a $2500 fine if we attempt to pray on campus @LibertyU, even with students and alumni. Here are both letters. pic.twitter.com/hiGq3C0Zh5

— Shane Claiborne (@ShaneClaiborne) April 5, 2018
IMAGE: pathdoc/Shutterstock
Like The College Fix on Facebook / Follow us on Twitter