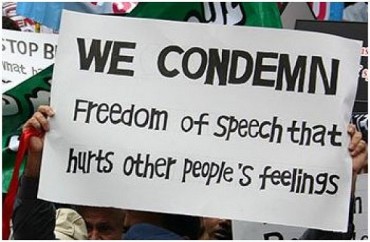 Campus official implies that 'hate speech' is not protected by the First Amendment
Officials at a public university are promising to discipline students for "hateful demonstrations" and "hate speech" — but refuse to articulate what they consider might fall under that category.
In the wake of controversial protests and demonstrations across the country, administrators at Southern Illinois University in Carbondale, Illinois have created hate speech and violence contingency plans, according to the school's student newspaper, The Daily Egyptian.
Under the new plan, anyone who engages in a "hateful demonstration" would be subject to "disciplinary action" determined by university officials, according to the student newspaper.
It is unclear what kind of speech the university deems actionable or what it considers "hate speech." In the Daily Egyptian article, the accompanying picture shows a protest on the campus last year with one student looking angry and holding up a "Trump: Make America Great Again" sign.
The College Fix reached out to Stettler and Dean of Students Jennifer Jones-Hall multiple times for comment. Neither responded.
Vice Chancellor of Student Affairs Lori Stettler told The Daily Egyptian: "There is a fine line between freedom of speech and hate speech…Once that line is crossed, there is zero tolerance."
Stettler added the university must watch all demonstrations closely in order to "make sure protesters are not using that freedom to preach hate and cause violence."
Under the "contingency plan," Stettler told the student newspaper that the university would bring additional campus police to the area if "the line into hate speech is crossed."
"Everyone should be educated on the difference between free speech and hate speech," Stettler said.
MORE: University of Maryland students demand 'hate speech' be classified as 'cult activity'
MORE: Penn students publish open letter demanding hate speech measures on campus
IMAGE: Flickr
Like The College Fix on Facebook / Follow us on Twitter