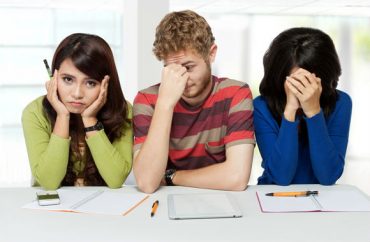 Among them: 'Bias crime reporting'
Fordham University requires new student affairs department employees to undergo "bias crime reporting and response" training, one part of a massive campaign at the institution called "Action Against Bias."
The training is among 87 different efforts spread across the school's two campuses in the Bronx and Manhattan aimed at fighting bias at Fordham.
Other efforts include a dinner for students-of-color only, social justice programming, talks on "whiteness," discussions on preferred gender pronoun usage, "civility" training, "diversity peer leaders," LGBTQ support, multicultural celebrations, a 12-step diversity program, talks on sexual identity, diversity-infused curriculums, role-playing workshops, and much more.
The private, Catholic institution also maintains a Bias Incident Resource Group that works to investigate and respond to any incidents of reported bias on campus, which the school defines as matters motivated by "real or perceived" issue of race, religion, sexual orientation or other categories.
The "Action Against Bias" mega-program, spelled out in detail on the university's website, has grown in scope in recent years, adding more programs as recently as for this upcoming school year.
Campus officials did not respond to requests from The College Fix seeking comment.
In addition to student affairs staffers' "bias crime reporting" training, the department's employees also get annual refresher lessons on that and similar "diversity and inclusion" topics, the university's website states.
While some programs are mandatory for certain students or staff members, others are optional.
For example, the school's Office of Multicultural Affairs offers volunteer diversity programming for students, while the Office of Residential Life mandates that their staff attend numerous diversity trainings.
Resident Directors are required to attend a three-hour session on diversity hosted by the school's Office of Multicultural Affairs, and are required to spend five hours per year engaged in a "book discussion" with other Resident Directors on issues of "diversity and inclusion," "students of color" and "bias incidents," the website states.
Resident Assistants, who are typically students hired by Residence Directors, are required to undergo more than 17 hours of anti-bias training, including a seven hour program to role-play "scenarios related to diversity and inclusion," it states.
Fordham began developing programs to fight bias as early as 2014, according to the school's "Actions Against Bias" online outline. That year, Fordham developed a required "Civility Core Programming Session" geared toward teaching students how to be civil and respect one another.
The school added three more programs a year later, including a "Diversity Dinner" dedicated to only students of color, and a "Global Transitions" workshop oriented toward international students.
Numerous other programs were added in 2016, and 2017 saw the addition of even more, including the "Deeper Dialogues" series.
"Deeper Dialogues function as a way to bring together Fordham University members in a welcoming and intimate space to dialogue about a variety of topics dealing with diversity and social justice," the website states, adding that for 2017 on, the series will have an umbrella focus connected to race and identity, such as "Whiteness," "BiRacial/MultiRacial" and "Colorism."
What's more, a "Racial Solidarity Network" is expected to form during the 2017-18 school year in order to "increase empathy, awareness, and understanding around the complexities related to race and the unique lived experiences people share as racial and ethnic beings," the website states.
While all of those programs are intended to prevent bias incidents from occurring on campus, Fordham officials admit online that they "cannot always keep these repugnant events from occurring in our midst."
To that end, Fordham encourages any student who falls victim to a bias incident to report the incident to the administration. While they give "victims of bias and discrimination" a list of possible administrators to go to, the Department of Public Safety is listed first.
Students who would rather report the bias incident online are given a "confidential non-emergency reporting tool" to sound an alarm to the administration, which is "required by law" to notify the Department of Public Safety, regardless of how serious the bias incident or bias crime was.
After the bias incident is reported, "Public Safety may be required for legal or safety reasons to interview you and conduct an investigation," Fordham warns, adding that after Public Safety conducts an investigation, the completed report will be sent to the Dean of Students, and that any student found guilty "will be sanctioned appropriately."
Like The College Fix on Facebook / Follow us on Twitter
IMAGE: Shutterstock