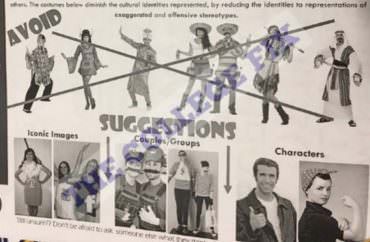 Student attends Halloween cultural appropriation workshop; read how ridiculous it was (if you dare!)
By the numbers, a "Culture not Costumes" Halloween workshop hosted at the University of Southern Indiana on Tuesday painted a pretty grim picture of the ridiculous influence that political correctness has achieved on college campuses.
A student tolerated the event, hosted by Housing and Residence Life, so The College Fix could get a glimpse into what it is to achieve extreme wokeness.
TEN: The number of students in attendance.
TWO: The number of videos shown to students about why it's bad to dress up in "inappropriate costumes."
FOUR: The number of handouts given to attendees to explain how to make sure their costume is not racist or does not culturally appropriate another, and why it's very bad to do so.
ONE: The number of times presenters provided the audience with dress-up materials and instructed them to dress up in something that wasn't culturally insensitive.
EIGHT: The number of times the student attending the event for The College Fix held himself back from rolling his eyes.
The two videos about people dressing up in "inappropriate costumes" included one on people donning Japanese prostitute costumes and a second on Native Americans. The words "very disrespectful" came up, a lot.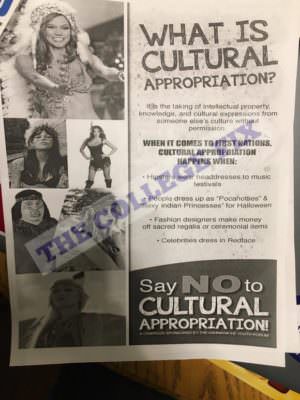 The lecture … uh, presentation, continued with the handouts.
The first described cultural appropriation, defining it as "the taking of intellectual property, knowledge, and cultural expression from someone else's culture without permission."
It goes on to provide examples of what cultural appropriation looks like "when it comes to first nations." Examples included: hipsters wearing headdresses, dressing up as "Pocahotties" and "sexy Indian Princesses."
The second handout portrays a short yes/no flowchart questionnaire to determine if a costume culturally appropriates. If it does, you're directed to "go back and start at the beginning" until you get it right.
Another handout featured a cartoon of a ghost who describes cultural appropriation as "scary," and proceeds to dress up in various costumes that "propogates [sic] stigmas by portraying any harmful stereotype."
Finally, the "Create Costumes, Not Stereotypes" flier listed what cultural appropriation looks like in practice, claiming "clothing, symbols, music, art, religion, language, and social behavior" are all elements that can be used to appropriate a culture.
It's hard to imagine what possibly could be left. That's when students found out.
Presenters got out a box of dress up costumes to practice with, showing students how to choose their own appropriate costumes, including superheroes, ghosts and cats.
"They literally had everything provided for us, and showed us things we could dress up as, and the clothes pretty much matched the costumes and all we had to do was put it together," the student told The College Fix.
"I have no idea what I just went to. It just wasn't what I expected."
MORE: Ahead of Halloween, universities nationwide tell students what not to wear
Like The College Fix on Facebook / Follow us on Twitter