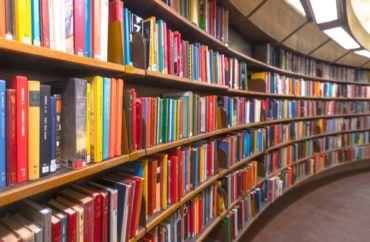 Violated its accreditation standards, free-speech groups say
A liberals arts school in Nebraska is getting shucked by free-speech groups for punishing a librarian who exposed its historical dirty laundry to students.
The Foundation for Individual Rights in Education and National Coalition Against Censorship warned Doane University that it was risking its accreditation by violating its contractual promises to faculty.
Doane suspended Melissa Gomis last month for creating a photo exhibit outside the library, "Parties from the Past," that included two photos of Doane students in blackface, according to student newspaper Doaneline.
They were from an "all-Doane masquerade Halloween party" in 1926, the Lincoln Journal Star reported, citing an Oct. 31 newspaper blurb from that year.
FIRE and NCAC told President Jacques Carter in a Friday letter that the university could not mandate "explanatory language and content warnings" without violating the academic freedom it promises. The exhibit's absence of such "context" was the stated basis for Doane's suspension of Gomis, who is also an untenured professor of practice in library science.
The national groups demanded the university "rescind any punishment related to this matter and clarify its commitment to academic and expressive freedom."
The university's longtime spokesman Joel Weyand resigned Tuesday, according to campus newspaper Doaneline. President Carter told the community Weyand didn't have a job lined up but was "interested in exploring new and different career opportunities."
Doane does not have a media relations email address listed publicly, so The College Fix submitted a general-inquiry web form seeking Doane's response to the letter from FIRE and NCAC.
President promises to block 'insensitive' actions going forward
The exhibit drew alarm from the university in April when a student complained about it to Gomis, the director of the Perkins Library.
Gomis removed those two photos April 19, and Provost Paul Savory ordered the entire display removed April 29. The university put Doane on administrative leave the same day. She was escorted off campus, according to Doaneline, which angered faculty members.
The representative for Doane's chapter of the American Association of University Professors, Chris Wentworth, said the administration violated Gomis's academic freedom. Displaying "insulting" photos that nonetheless have "significant historical value" does not justify a sanction on her, Wentworth said.
President Carter apologized to students on April 29, the same day Gomis was suspended, for the "hurt" that the photos caused. "Such an insensitive action is unacceptable and will not be tolerated now or in the future," he wrote in an email.
The AAUP chapter released a statement May 3 condemning the university for its "unambiguous … censorship" and sanctions against Gomis, who was punished before an investigation had started. The university acted in response to a "grievance complaint":
The initial act of censorship, removing two photographs that offended students, was one of self-censorship, as it was done by the library director, and was driven by her genuine concern to respond to the student and to avoid external censorship. However, the second act of censorship, the removal of the entire exhibit under orders from the Provost was overt censorship coming from outside the library performed by a person with no training in library and archival science.
Carter's email to students set forth a "policy of censorship in educational environments such as the library," judged solely by what offends the university president, the chapter said. This violates not only the academic freedom of Gomis but "all other faculty, and, by extension, the students of the University."
In the event the university justifies censorship on the basis of Gomis being a librarian, the chapter argued that "librarians are particularly vulnerable to sanctions resulting from public disapproval of their collections and exhibits." They curate and publicize "an enormous range of materials that inevitably will include items that some, and perhaps even many, will find objectionable."
It demanded the reinstatement of Gomis "without prejudice and with no further actions taken" against her. That happened May 7, a day after Carter told the community that "steps and corrective actions are being taken to avoid similar situations in the future," according to Doaneline.
The Journal Star reported that Gomis may not be the only victim of the administration's response.
Carter wrote in the April 29 email that blackface in any context "has no place at our institution." He told the newspaper that Doane will "carefully review material that may be in our archives."
Rather than burying Doane's history, he added, the university's history must be "put in appropriate context" if it's going to be displayed to students.
Same as Marquette's 'contractually-disqualified' punishment of conservative professor
The letter from FIRE and NCAC demanded that Doane not only reverse any outstanding punishment on Gomis, but "remove any permanent notations on her employment record" and tell the community explicitly that Doane "remains committed to expressive and academic freedom."
They said that the purpose of the exhibit was clear, contrary to the administration's portrayal.
"The exhibit followed the ongoing national debate surrounding offensive Halloween and party costumes, as well as a national effort to confront the history of blackface in universities' yearbooks," said the letter, signed by FIRE program officer Alex Morey and NCAC Director of Programs Svetlana Mintcheva. The "parties" section went back to the 1800s.
The exhibit had been up several weeks before anyone complained. Faculty told Inside Higher Ed the administration justified Gomis's suspension based on its harassment policy, which bans "visual harassment" and conduct that "unreasonably" interferes with a person's academics or creates an "offensive" environment.
Morey and Mintcheva expressed alarm about President Carter's public statements, including that showing uncomfortable photos of university history "perpetuates systemic racism in society."
"Doane's censorship of the display is alarming and suggests that Doane would rather hide its past than confront it," they wrote.
It's not only morally but contractually bound to honor its promises to faculty, the letter continues, citing both the Faculty Handbook and the terms of its accreditation by the Higher Learning Commission of the North Central Association of Colleges and Schools.
FIRE and NCAC cited last year's court decision against another private university, Wisconsin's Marquette, for violating its contractual promise of academic freedom to a professor punished for his speech. The purportedly harassing blog post he wrote was "a contractually-disqualified basis for discipline," the Wisconsin Supreme Court ruled.
The 8th U.S. Circuit Court of Appeals, whose jurisdiction includes Nebraska, has ruled squarely on the core issue in Doane's controversy, according to the letter.
The University of Minnesota-Duluth removed photographs from the history department's "public display case" following "anonymous complaints." They showed professors "bearing weapons related to their academic interests." Affirmative Action Officer Judith Karon called them "inappropriate" and even potential examples of "sexual harassment."
The appeals court struck down the removal as a violation of academic freedom. "Curated campus displays do not amount to expression by the institution itself, and are not reasonably seen as such," Morey and Mintcheva wrote.
The administration can't reasonably claim to be afraid of liability for "discriminatory harassment," given the bevy of court decisions that expressly protect even "distinctly unpleasant" faculty speech, the letter continues, quoting a 9th Circuit ruling.
Carter and fellow administrators are simply not allowed to require that library displays "be accompanied by disclaimers or qualifying language satisfactory to administrators or aggrieved observers of the display," much less "outright" censor them, FIRE and NCAC said.
Even opening an investigation into Gomis creates a "chilling effect" on expression that "Doane has explicitly pledged to protect under its academic freedom policy," they wrote. Its argument that Gomis's action was potentially contrary to the university's "values," and required an "appropriate educational context," falls flat under its own promises to faculty.
IMAGE: Shutterstock
Like The College Fix on Facebook / Follow us on Twitter