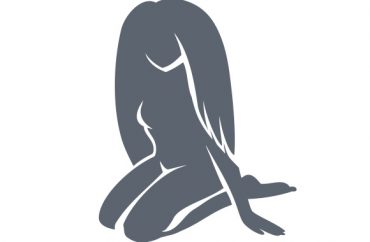 University of Wisconsin-Stout leaders recently relocated two historical paintings they deemed "harmful" to "controlled access" rooms – but administrators have not placed the same restrictions on a large photo of a naked woman openly displayed on campus.
With that, the university allows a level of nudity to be viewed without "controlled access," but not paintings commissioned during the 1930s by the U.S. government – artwork Wisconsin taxpayers paid $26,000 in 2012 to restore.
The nude photo – an image of a woman bent over backward in a yoga pose with the words "Unrestricted" – hangs today in the university's Communications Technologies building.
It is the cover photograph of a senior's capstone portfolio submitted to complete a photography and video minor, campus spokesman Doug Mell told The College Fix via email, noting photos from other students' capstone projects have also been hung.
"Unrestricted" has been on display since the spring and will continue to be showcased until Spring 2017, when new student art will be hung, Mell said.
(At Left: A student at the school took a photo of the artwork on display on behalf of The College Fix.)
UW-Stout was thrust into the national spotlight over the summer after two 80-year-old historic paintings were deemed to have a possible "harmful effect" on students by Chancellor Bob Meyer, who ordered them to be moved from hallways in the university's largest building to areas on campus where they can be viewed by appointment.
One painting depicts Native Americans canoeing in a river alongside French trappers, and the other shows a fur trading fort and Native Americans. Both were painted by Cal Peters in the mid-1930s as part of the Depression-era federal Works Project Administration. In 2012, they were restored at a cost of $26,000, according to campus officials discussing the artwork in emails obtained by The College Fix through a public records act request.
In an Aug. 5 memo to the campus community, Meyer said "their current uncontrolled access pose a risk of having a harmful effect on our students and other viewers. … I became convinced by listening to our Native American students, employees and others on campus, that these paintings stood in the way of [the university's] effort to create an inclusive and comfortable environment for everyone."
Among the pressure Meyer had fielded came from Barb Miller, director of the university's Multicultural Student Services, who "grew up on the Stockbridge-Munsee Reservation and is an enrolled member of the Mohican Nation," according to the university's website.
"I continue to have the same recommendation; the discriminatory paintings need to be taken down from Harvey Hall and any university hallway because we are committed to inclusive excellence," Miller stated to Meyer in a June 9 email. "… Some have referenced the opportunity to use the art as an educational tool. I think we have a greater responsibility than posting stereotypical images of First Nations People. … We don't need biased art in our hallways to teach/learn about First Nations People."
"… What would you need to make decision to not portray these derogatory images in our university hallways? The impact of keeping up harmful images is that some people continue to be marginalized and not valued," Miller wrote.
Additional emails released through The Fix's Freedom of Information Act revealed questions on whether additional works of art on campus disrupt what Meyer called "a comfortable environment for everyone." At least one university employee emailed Meyer and questioned the difference between the nude photo and the historic paintings.
To which Dr. Meyer responds he is "not aware" of that picture.
"One differentiator between previous complaints and the Cal Peters artwork is the fact that the University offers stewardship of the Peters artwork (so we can decide how to display it)," Meyer replied. "The Freedom of Expression issue become pretty acute when the artwork is created and displayed by students or faculty (that's what I'm told by the System attorneys). It all makes my head hurt!"
Mell, in his statement to The Fix, reiterated those sentiments: "As Dr. Meyer points out, a professor's art that they choose to hang on campus is subject to different free speech standards than historic artwork placed under the purview of a public campus administration."
Mell also took issue with what he contends is an incorrect assumption that the historical paintings are not available for viewing by the students or the public.
"They absolutely are available for student/public viewing," he said, citing a news release about one of the paintings being used as the basis for a classroom project.
"The other painting will be available for viewing just as soon as the University Archives space is remodeled in the library," Mell added.
The university is not moving forward with an artwork vetting committee at this time, he said.
Brooke Siewert, the artist behind "Unrestricted," describes herself online as a graduate of the University of Wisconsin-Stout with a bachelors of science in cross-media graphics management and a minor in applied photography. She could not be reached for comment Wednesday by The College Fix.
MORE: College Exhibits Nude Photos of Female Students, for 'Empowerment'
Like The College Fix on Facebook / Follow us on Twitter
IMAGE: Main image — Shutterstock