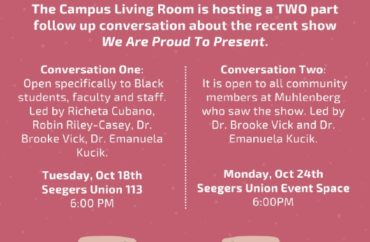 Event is now 'primarily' for black individuals, not 'specifically'
An advertisement for an event targeted "specifically to Black students, faculty, and staff" was taken down by Muhlenberg College's Student Transitions' Instagram page and replaced with one that did not explicitly exclude other races, after a College Fix inquiry on Monday.
The new graphic (below), invites people to an event tonight that is "[d]esigned primarily for Black students, faculty and staff." The event is a follow-up conversation on a theatre performance called "We are Proud to Present," put on at the Pennsylvania college September 29 through October 2.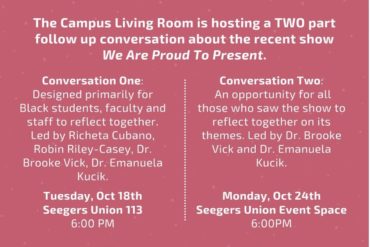 "The goal of this conversation is to give those most directly impacted by the content of the show a chance to debrief, share their feelings, and connect with others," the new Instagram post reads. "This conversation will be led by Richeta Cubano, Robin Riley-Casey, Dr. Brooke Vick, and Dr. Emanuela Kucik."
Someone posted the new Instagram post last night around 10 p.m. Eastern time.
The deletion and rewrite came after a College Fix inquiry into the event, sent to the organizers and participants for the initiative called the Campus Living Room Project.
"The purpose of the Campus Living Room is for Muhlenberg students, faculty, and staff to have a space to come together in dialogue on campus on different topics," Allison Williams, vice president of campus life and dean of students, wrote in an email Monday afternoon to The Fix. "Some conversations engage the entire community and others are more focused conversations among students, faculty, and staff with a particular interest in the topic."
"All Muhlenberg students, faculty, and staff are welcome to attend any Campus Living Room event; no member of the Muhlenberg community would be turned away," Williams wrote in her email, in response to a question about if anyone would be removed or expelled from the event if they were not black.
An initial message from the Living Room Project email address, and reviewed by The Fix, also stated that the conversation tonight was "open to all Black students, faculty and staff."
MORE: Minnesota college cancels no-whites-allowed luncheon after College Fix report
IMAGES: Muhlenberg College
Like The College Fix on Facebook / Follow us on Twitter