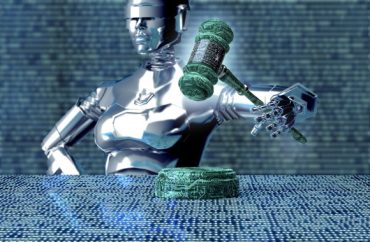 San Francisco State seeks to educate on the ethics of artificial intelligence
"If a self-driving car gets into an accident, who's to blame? The person behind the wheel? The manufacturer? Or the programmer who gave the car the ability to drive itself in the first place?"
That's one of the questions San Francisco State University officials say they hope graduates of a new ethical artificial intelligence graduate certificate program might be able to answer.
"Artificial intelligence (AI) has the potential to transform our life and work, but it also raises some thorny ethical questions," campus officials added in their news release on the program, launching this August.
"That's why a team of professors from three different colleges at San Francisco State University have created a new graduate certificate program in ethical AI for students who want to gain a broader perspective on autonomous decision-making."
The multi-disciplinary program is being billed as the first in the country. The certificate incorporates philosophy and business as well as computer science. The goal is to look at the ethical implications AI has on everyday lives and help "create technology responsibly," according to its online description.
"Artificial Intelligence (AI) is becoming an integral technology in many areas," SFSU's website states, citing areas such as medicine, business, law enforcement, and even in the way news is filtered online.
Denise Kleinrichert, interim associate dean of the College of Business, said the program tackles emerging issues.
"We are…coming together for SF State's first interdisciplinary program that addresses the complicated roles we each foresee regarding AI development and use," Kleinrichert said in an email to The College Fix. "Ethics has been increasingly needed in many work, social and political domains."
According to the College of Business' website, the expanse of AI provides a new element of challenges, particularly when it comes to the "use and misuse of AI in government and media," which therefore "calls for greater scrutiny and oversight."
The study of ethics when it comes to artificial intelligence has long been needed, Kleinrichert said. In her research, Kleinrichert has found that studying the ethical concerns can help design services and goods that can mitigate both emotional and physical harm. Studying ethical AI can also promote privacy and well-being.
Dragutin Petkovic, associate chair of the computer science program at SFSU, also found privacy to be a main concern when using AI, telling The College Fix that the way companies use it makes him "uncomfortable."
According to Petkovic, "the first step is to educate people and [hopefully] get politicians involved," when it comes to privacy online.
In an effort to create awareness of the problems behind AI, according to the program's online description, San Francisco State plans on training students to look at the "ethical, political, and social ramifications" of artificial intelligence, as well as how to be ethical in a field that is continuously bringing up issues of morality.
"Artificial intelligence is increasingly used in a variety of ways, both useful and potentially intrusive in products and services. Facebook is an example–and, they have had some press about their practices," Kleinrichert said. "Facial recognition technology being used in public spaces or to identify consumers and their purchasing practices are other examples."
The certificate consists of four classes, as well as 10-page report following the completion of an independent study. The program will officially launch in August 2019.
MORE: Scientists developing artificial intelligence tool to combat 'hate speech'
IMAGE: Shutterstock
Like The College Fix on Facebook / Follow us on Twitter