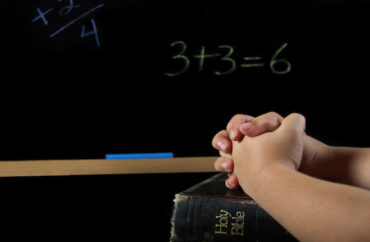 Student reportedly 'lurked' outside of class, unseen; school installs police officer
A public southern university has admitted that it cannot stop a Christian student from proselytizing members of an LGBT course, though it has installed a police officer outside the classroom for the remainder of the semester in response to reportedly unsettling behavior from the student in question.
Inside Higher Ed reports that members of an "Introduction to LGBT Studies" course at the University of Louisville recently received a pamphlet on Christian sexuality, one that instructed them to reject homosexual inclinations and other unorthodox sexual practices and beliefs.
The student allegedly distributed the pamphlets before class and then "lurked outside," with one student claiming he "waited outside the classroom while it was in session and hid in a spot where he could not be seen by the students but could see them," according to Higher Ed.
Many of the students in the class were disturbed and upset by the incident. The university, however, said that the student's pamphlets "did not qualify as hate speech" and that he was "expressing his First Amendment rights, and he's allowed to leave the literature."
Yet the university nevertheless decided to place a police officer outside of the course classroom; the officer will remain positioned there when the class is in session for the remainder of the semester.
According to Higher Ed, Adam Steinbaugh of the Foundation for Individual Rights in Education said that there are limits to the student's permissible behavior:
"To the extent that the university is telling students they cannot obstruct a class, that is not objectionable," Steinbaugh said. "I think if they are outside of a classroom, as long as they are not preventing coming or going from the class, I think they can be allowed to do so, so long as that is a non-disruptive and viewpoint-neutral policy."

If the student continues to repeatedly target students who clearly do not want to interact with him, it could eventually be considered harassment, in which case the university could respond, Steinbaugh said.

"Once or twice does not amount to hostile harassment under the law, and absent a hostile environment, the university cannot punish someone for their speech," Steinbaugh said. "If he's preventing students from learning, that would be cause for the university to do something."
Not all community members were pleased with the university's response. Ricky Jones, the chair of the school's Pan-African Studies department, wrote in an op-ed for The Courier-Journal that the university was "more concerned with a possible lawsuit from the student or conservative backlash than the protection of a faculty member and rattled students who are being targeted and harassed because of their sexual orientation."
MORE: 'Queer Bible Hermeneutics' course teaches students about 'queerness in the church'
IMAGE: Maria Dryfhout / Shutterstock.com
Like The College Fix on Facebook / Follow us on Twitter