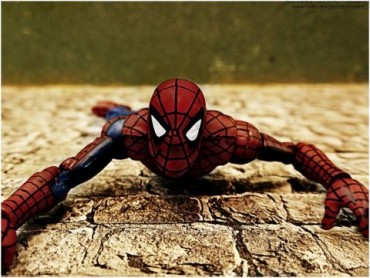 In this modern collegiate age where every possible sub-division of the human race has to have a "safe space" in which to properly commiserate with those of like hue, various arenas of popular culture are following suit.
This past week, for example, it was announced that the new comic book version of Marvel's Spider-Man will be a biracial — black Hispanic — teenager.
This isn't all that big an announcement by itself, of course (the character, Miles Morales, was established already as an alternate reality version of everyone's favorite wall-crawler); what was most interesting were the comments of his co-creator, Brian Michael Bendis:
The enormity of Miles Morales' place in comic book history didn't really hit Bendis, a father who has two kids of color among his four children, until recently. His 4-year-old adopted African-American daughter found a Miles Morales Spidey mask in the toy aisle of a department store, put it on and said, "Look daddy, I'm Spider-Man!" he recalls.

"I started crying in the middle of the aisle," says Bendis. "I realized my kids are going to grow up in a world that has a multi-racial Spider-Man, and an African American Captain America and a female Thor."

Many kids of color who when they were playing superheroes with their friends, their friends wouldn't let them be Batman or Superman because they don't look like those heroes but they could be Spider-Man because anyone could be under that mask.

"Our message has to be it's not Spider-Man with an asterisk, it's the real Spider-Man for kids of color, for adults of color and everybody else."
This is very intriguing for two main reasons.
First, the neighborhood in which Bendis grew up: What friend wouldn't let another friend play the role of a superhero of a different color?
Second, in conjunction with the first, why can't minorities relate to white superheroes ("Spider-Man with an asterisk") … but whites can relate to minority superheroes?
Popular culture commentator Douglas Ernst responds:
What? What neighborhood did Mr. Bendis grow up in, where little white kids were telling black friends they could pretend to have been bitten by a radioactive spider, but they couldn't pretend to look like Steve Rogers [Captain America]?

What neighborhood did Mr. Bendis grow up in, where a white kid's imagination allowed him to be a green ninja turtle, but not James Rhodes [Iron Man cohort War Machine]?

One of my favorite G.I. Joe characters as a kid was Roadblock. When I watched the Rocky movies I loved Apollo Creed. My brother introduced me to Marvel's Iron Man, and I took a liking to James Rhodes. My favorite football player was Marcus Allen. Likewise, I loved G.I. Joe's Flint, Rocky's "Italian Stallion," Iron Man's Tony Stark, and the New York Yankees' Don Mattingly. My "heroes" weren't heroes because they were black or white — they were heroes because they were just "cool."
Most people would agree with Ernst. One of my favorite characters (and superhero movies) is Blade. Somebody try to tell me that Wesley Snipes isn't the epitome of "cool" in the first Blade film.
But Bendis is a member of contemporary culture's progressive "elite" which is very strict about racial, sexual and gender classifications.
Based on that elite's philosophy, it is perfectly acceptable that Ernst and I admire, and relate to, characters like James "War Machine" Rhodes and Blade.
But, somehow, minority individuals cannot legitimately do the same with Tony Stark (Iron Man) or Peter Parker (the original Spider-Man). As Bendis says, they have "asterisks" on them — because they're white.
This is not unlike how college racial bean counters argue that a "critical mass" of diversity is necessary on college campuses to ensure correspondent "educational benefits."
This "critical mass" is never really defined, of course, and interestingly, HBCUs — Historically Black Colleges and Universities — seem exempt from this educational necessity.
This all sounds a lot like the notorious "soft bigotry of low expectations" in which progressives are often guilty of indulging: Minorities don't need the benefits of a "critical mass" of diversity; they cannot be expected to learn "properly" in white-dominated schools; now, they can't relate to Caucasian superheroes.
Interestingly, Marvel Comics' godfather, Stan Lee, no doubt angered many social justice warriors when he said recently that Spider-Man should remain white and straight. (He did so after the announcement that the new cinematic Spider-Man would remain a white guy; that announcement has already miffed some SJWs.)
But what does Lee care? He's 92. And comic book creators certainly won't denigrate him for having a difference of opinion on how to deal with diversity in the funny pages. That's reserved for us regular peons on social media.
Like The College Fix on Facebook / Follow us on Twitter
IMAGES: Rooners Toy Photography/Flickr; YouTube screencap (unmemed)