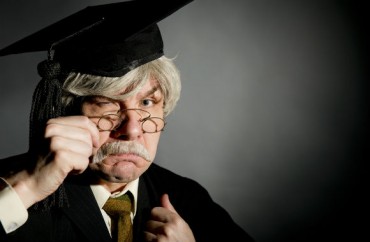 Cats and dogs, Trump and Jeb!, academics and administrators: They don't really get along.
Colorado's Adams State University has joined Chicago State University in taking legal action to keep faculty from saying critical things about the administration.
ASU President Beverlee McClure sent the chief of campus police to the home of Danny Ledonne, a filmmaker and onetime ASU film instructor, to hand-deliver a letter warning him he'd be arrested for trespassing if he stepped foot on campus, Denver alt-weekly Westword reports.
In the small college town of Alamosa, this was tantamount to Ledonne's exclusion from public life, he argues. (His last contract, as a full-time visiting professor, wasn't renewed this spring.)
Ledonne apparently made himself a target by launching a watchdog blog about ASU, fed by a "network of staff writers and sources within the institution" who give him tips.
On Oct. 12 the blog accused the school of illegally withholding adjuncts' paychecks, violating state law through slow responses to open-records requests, and threatening ASU employee privacy by requiring their identification to view publicly available salary data.
Nearly a month after attending McClure's September cabinet meeting – as he'd been doing for years as both an adjunct and visiting professor – Ledonne received his first warning letter from the president, saying he's not allowed to attend "administrative meetings" as a non-employee.
The letter, posted on the Watching Adams blog, was dated the day after his explosive posts.
RELATED: Judge: Chicago State can't 'interfere' with critical faculty blog while First Amendment case proceeds
When he asked for clarification on what counted as "administrative meetings" and where this policy came from, McClure did not respond, according to the blog. Instead, the president posted a police officer outside this month's cabinet meeting (Ledonne stayed home):
In the Cabinet meeting, a new policy was given a first reading – a Persona Non Grata Policy (PNG).  A typo in an early draft indicates the document was plagiarized from Fort Lewis College.  Some in the meeting raised concern that the PNG policy could be applied in retaliation. President McClure assured the campus in an October 20th email that this was not the case, stating "Persona non grata status is designed to protect the safety of our campus. We would never issue this as retaliation."
The trespassing letter arrived to Ledonne that afternoon after the cabinet meeting, saying his campus presence is "disruptive and/or you have been previously warned that such behavior will not be tolerated," and that his "alleged behavior is deemed to be detrimental to the well-being of the institution and/or incompatible with the function of the University."
As directed by the letter, Ledonne wrote back to the assistant attorney general of Colorado, who happens to be ASU's legal counsel (!), noting what precedent this administration action would set. Just a snippet:

Count on Ledonne's tussle with ASU to draw more media attention unless the school backs down quickly.
It was brought to my attention by Peter Bonilla of the Foundation for Individual Rights in Education, which also targeted Chicago State in one of the group's Stand Up for Speech lawsuits.
Adams State U on PNGs: designed to protect "safety," "would never issue this as retaliation." Which…yeah. Ok. https://t.co/oR8rOCQta2

— Peter Bonilla (@pebonilla) October 26, 2015
RELATED: 'Civility' constitutes a threat to profs' blogging against school, judge says
Like The College Fix on Facebook / Follow us on Twitter
IMAGE: Shutterstock