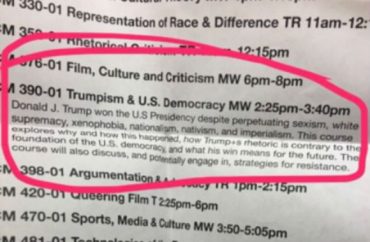 From squelching its campus media to conning the mainstream media
Give Butler University credit: It knows how to appease the mainstream media with purely cosmetic changes.
The Indiana liberal arts school said a professor who teaches a "Trumpism & U.S. Democracy" course would no longer require students to plot "resistance" against President Trump in class. But the course remains virulently and uncritically anti-Trump.
Here's the original, poorly written description for the "special topics" course:
Donald J. Trump won the U.S [sic] Presidency despite perpetuating sexism, white supremacy, xenophobia, nationalism, nativism, and imperialism.

This course explores why and how this happened, how Trump+s [sic] rhetoric is contrary to the foundation of the U.S. democracy, and what his win means for the future. The course will also discuss, and potentially engage in, strategies for resistance.
Butler University doing damage control over its "Trumpism & Democracy" course. What do you think of this course description? @KCTV5 pic.twitter.com/3HcNbwxhRA

— Natalie Davis (@NatalieKCTV5) May 7, 2017
It drew an immediate backlash, according to The Indianapolis Star. Butler said Prof. Ann Savage updated the description to clarify students "are not required to participate in activism."
It blamed the original description on its practice of "accepting preliminary course descriptions for Special Topics classes," tacitly acknowledging its faculty (and their department chairs!) feel comfortable and sheltered enough to openly promote propaganda in publicly posted syllabi:
A university spokesman said special topics courses are approved by the university's curriculum committee, but preliminary course descriptions are not. Those course descriptions are submitted to the registrar by the department chair and the description is subject to change by the instructor as the course is further developed.
MORE: Butler gives course credit for walking dogs
Butler Provost Kathryn Morris released a statement saying the anti-Trump course content was protected by academic freedom but the activism implied by the original description was "more problematic":
The University would not require a student to support or oppose a particular political figure or agenda. The professor has been very transparent about the goals of the course and has provided additional context that clarifies students in the class will not be required to participate in a particular form of activism. …  Students will potentially attend, as participant observers, campus and community events to witness and analyze ongoing responses to Trump's presidency and campaign.
The university, whose academic rigor is also shown by its dog-walking course, explained the changes in a Facebook post.
It does not appear to be moderating comments. One unleashes a stream of profanity on Butler and its student "bitches" who are too emotionally fragile to participate in the original description's call for "resistance."
Here's the whitewashed course description, which closely tracks the statements from Morris and the university yet still could use a proofread:
This course offers a broad historical, political, and critical communication studies approach to understanding the rise of Donald Trump as a political and social phenomenon. The course draws from the widely circulated Trump Syllabi (per the Chronical [sic] of Higher Education and Public Books) crowd sourced by some of the nation's leading scholars in American Political Science and history, demography, cultural studies, sociology, and more. The course will provide context and depth for student citizens as we look to historical and current texts by renowned authors as well as read excerpts from Trump's own The Art of the Deal. Students will potentially attend, as participant observers, campus and community events to witness ongoing responses to Trump's presidency and campaign. To instill disciplinary diversity, the course will invite faculty from across campus to guest lecture.
"Potentially attend" anti-Trump rallies in a progressive college town? Doesn't sound much different from plotting "resistance."
MORE: Student editor's forced resignation follows criticism by PR official
It's no surprise that Butler thinks it can hoodwink the media with this empty gesture. It's infamous in student press circles for forcing a student editor to resign after its own spokesman criticized her, and a year later forcing out its student newspaper adviser and installing the same official in his place.
"Butler's administration gets an A grade for crisis control" and creating "the impression of transparency," Jane Shaw of School Reform News wrote Sunday in The Star:
But its grade for candor is not as high. Not only did Butler erase the original description, it acted as though nothing was wrong. James Danko, Butler's president, wrote, "The more complete description of the course makes it clear that the educational objectives are quite consistent with our role as educators, namely, to promote critical inquiry and to engage our students on topics, even if controversial."

That's ridiculous. First, the new course description available to the public is not "more complete"; it has merely been softened. As for critical inquiry, the course encourages critical attack, not inquiry. …

In both the original and the bowdlerized versions, the readings for the course are "crowd sourced," and the main selections will be from imaginary anti-Trump course syllabi that have appeared in the media.
MORE: Butler awards scholarships based on race
Anti-Trumpism in the classroom at Butler https://t.co/JwGjAySM6l

— Lennie Jarratt (@LennieJarratt) May 16, 2017
Shaw notes one of those is an "unsigned outline of readings" from a Chronicle Review article titled "Trump 101" (itself criticized for insufficient intersectionality). They include Philip Roth's The Plot Against America, a 19th-century drama about a "vain, controlling and competitive architect," and a book on racist Jews and Italians in 1970s Brooklyn.
Savage, the professor, is an activist through and through. Shaw notes that in two decades at Butler, Savage created its Women's Center, "spurred a presidential commission on gender equity" and started a faculty "collaborative" on race, gender and sexuality:
For those familiar with academe, Savage's credentials are shining. And it's a breeze for her to analyze the election of Donald Trump. The script has been written; just fill in the blanks.
The anti-Trump course, unsurprisingly, is full.
Read The Star story, Shaw's op-ed, provost's statement, new whitewashed course description, "Trump 101" and intersectional "Trump Syllabus 2.0."
MORE: Butler dumps student newspaper adviser, installs its own spokesman
Like The College Fix on Facebook / Follow us on Twitter
IMAGE: Twitter screenshot