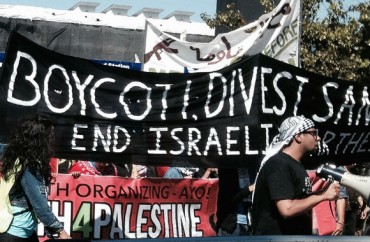 UPDATED
It might 'stir up controversy'
For more than a year, Fordham University dragged out the application process for a campus chapter of Students for Justice in Palestine, and then summarily rejected it for its anti-Israel views.
The Catholic university, which already has a Muslim Students Association, is now being warned that it could lose its federal funding for the decision.
Palestine Legal and the Center for Constitutional Rights wrote to the school Tuesday, arguing that it violated Title VI of the Civil Rights Act by depriving a since-graduated Palestinian-American student, Ahmad Awad, "the opportunity to share his culture … on an equal basis as other students at Fordham."
Students applied for club status in November 2015 and expected they would be approved in time to start SJP programming for the spring semester, but nearly a year went by before they had any inkling that ideological objections might sink their club, according to the letter.
MORE: SJP founder celebrated by British Labour leader at book event
Told by administrators in April they only needed to make "boilerplate edits" to the group constitution – particularly the chapter's relationship to the National Students for Justice in Palestine – the students learned in September 2016 that Dean of Students Keith Eldredge had questions about the chapter's "proposed programming":
At the meeting [that followed in October, Director of the Office of Student Leadership Dorothy Wenzel] and Dean Eldredge expressed concern that SJP's presence would "stir up controversy," in the same manner that had happened when Professor Norman Finkelstein, whose scholarship supports Palestinian rights, spoke on campus in 2009. Dr. Wenzel and Dean Eldredge asked students if they would consider not using the name "Students for Justice in Palestine" and expressed concern about the club's support for using the tactic of boycotts, divestment and sanctions (BDS) to pressure Israel into respecting Palestinian rights. Dr. Wenzel also said that she spoke to several Jewish faculty members about SJP in the previous academic year, and requested their opinion on whether SJP should be established at Fordham.
Administrators also gave the Jewish Student Organization heads up that SJP's application would be voted on by the student senate, leading the would-be SJP leaders to complain that the school gave JSO "an undue advantage to mobilize support against us" before it was even formed.
The senate also invited JSO to speak to the body about the SJP application.
One of the more blatant, unapologetically viewpoint-based rejections of a student group I've seen. Unacceptable. https://t.co/fh1SpGTMuI pic.twitter.com/OAUxpZjTN8

— Peter Bonilla (@pebonilla) January 17, 2017
Kayla Wolf, the incoming vice president of operations for the student government, also asked whether an anti-BDS executive order by New York Gov. Andrew Cuomo or city council resolution condemning BDS would block the formation of SJP, according to the letter.
Though the senate voted to approve the club, saying it "has faith that Students for Justice in Palestine can function on campus respectfully," Dean Eldredge had trouble making the final call, for lack of "neutral or objective" information about SJP.
MORE: SJP wants UChicago to punish people for anonymous flyers
At a Dec. 12 meeting, Eldredge asked two would-be SJP members what BDS means to them – in particular "the dissolution of the state of Israel" – as well as why they describe Israeli actions as "apartheid" and if SJP works with Jewish groups including J Street.
The last day of the semester, 13 months after its application, Eldredge rejected the club:
I cannot support an organization whose sole purpose is advocating political goals of a specific group, and against a specific country, when these goals clearly conflict with and run contrary to the mission and values of the University. … Specifically, the call for Boycott, Divestment and Sanctions of Israel presents a barrier to open dialogue and mutual learning and understanding. In a statement announcing their vote to approve the club, United Student Government at Lincoln Center acknowledged the need for open, academic discussion and the promotion of intellectual rigor on campus; however, I disagree that the proposal to form a club affiliated with the national Students for Justice in Palestine organization is the best way to provide this.
Palestine Legal and the Center for Constitutional Rights blasted Eldredge's reasoning as a violation of Fordham's own mission statement:
It is clear, as reflected by comments from Fordham administrators, that Ahmad, [Redacted], and the students interested in starting SJP were delayed over a year, interrogated, railroaded and ultimately censored because some students and faculty disagree with SJP's viewpoint supporting Palestinian rights, or received pressure from individuals and groups against Palestinian rights. …

MORE: SJP gets a taste of discriminatory treatment

When Fordham treats a particular viewpoint in a disparate manner based on how much controversy the viewpoint could provoke, it blatantly violates its promise to guarantee freedom of inquiry on campus. When Dean Eldredge decides that BDS is too polarizing to allow students to debate it, he makes a mockery of "rigorous thinking."

To allow students with one political viewpoint to block the speech of those with whom they disagree is a further insult to Fordham's guarantee of open inquiry.
The letter demands Fordham immediately approve the club's formation, apologize in writing to the organizers and "issue a written statement" saying Fordham guarantees "the right to engage in controversial speech."
In a press release, Palestine Legal staff attorney Radhika Sainath said banning SJP would be like Fordham banning the College Republicans because "no one's more polarizing than President-elect Donald Trump."
Read the letter and Palestine Legal's press release.
CORRECTION: The original article cited the wrong provision of the Civil Rights Act that Fordham allegedly violated by rejecting the club's formation. It is Title VI. The article has been amended accordingly.
MORE: Group threatens to sue Kent State for Golda Meir statue
Like The College Fix on Facebook / Follow us on Twitter
IMAGE: Alex Chis/Flickr