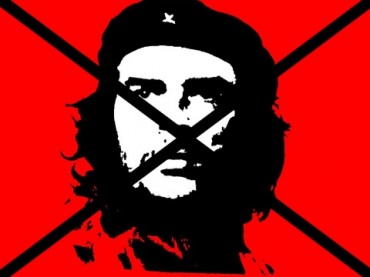 A student-run cooperative building at UC San Diego called the Che Cafe Collective may shut down after 34 years of "non-profit business operations" and rock n' roll because it doesn't always pay its rent and can't afford needed safety repairs.
According to reports from the USCD Guardian, student management has failed to keep the building up to fire and other safety codes and often fails to pay rent to the University Center.
Student employees of the Che Cafe, which is named after the Marxist revolutionary Che Guevara, claim that it is the responsibility of the university, not the cafe, to pay for upkeep.
The Che Cafe is a low-budget operation that harnesses volunteer manpower and hosts events throughout the school year such as No Mic Open Mic Night. Che Cafe's Blogspot describes the event as "no drugs, no alcohol, no bullsh*t, no complaining, no mics."
The Che Cafe hosts shows and other gigs for "exorbitantly low prices," which doesn't help their lack-of-income problem.
Even those enchanted with the idealism of the commie-styled business model realize that it's not practical, notes the campus student newspaper in an editorial appropriately headlined: "In The Red."
The piece described the venue as a "money pit consistently plagued with safety issues."
"While, of course, we're all for the idea of student-run collectives providing competitively priced goods and services, it doesn't seem like a good strategy in the midst of such pressing financial problems — particularly when this translates into ignoring rent obligations," writes the Guardian's Editorial Board.
Some say the Che Cafe is a cultural institution with historical value and a unique sober atmosphere, worth pouring almost $1 million in needed investments to keep the place open. Others see it as nothing more than a generally disused space.
"Many students also don't realize that the money being spent on the cafe's renovation comes directly from student fees; in other words, we are collectively pouring almost one million dollars of our money into repairing a cooperative that the vast majority of us don't even use," the Guardian argued.
Last year, UC San Diego students voted against a tuition increase of $11 per quarter which would have gone toward necessary renovations for heavily trafficked student centers. One can only assume the majority of students would be against student fees going toward a space visited by only 17 percent of students.
Yet the University Center's Advisory Board members were surprised to see a lawyer representing the Che Cafe Collective at a recent student-run meeting to discuss the co-op's future, at which supporters of the venue stormed the room and pleaded for it to be kept open.
"We were kind of blindsided; in the meeting, we were supposed to meet with just students," Sammy Chang, UCAB Chair, told the Guardian. "The Che Cafe has made this into a legal issue. We can't talk anymore — we have to talk in front of attorneys."
The next input meeting was slated for May 19, at which UCAB members were expected to bring along UCSD legal counsel on their behalf. Chang expects voting will take place at a later date, with Monday's meeting solely devoted toward further public input.
In an interview Friday with The College Fix, UCSD administration claimed they were not aware of the upcoming vote nor were they sure who oversees the student-run co-op.
As for the proponents of the Che Cafe, they are going against the advice of the cafe's namesake by lobbying the University Center's Advisory Board and bringing an attorney to argue on their behalf.
Reminder – the KGB-mentored Che Guevara preached:
"Youth must refrain from ungrateful questioning of governmental mandates! Instead they must dedicate themselves to study, work and military service!"
College Fix contributor Lauren Cooley is a 2014 graduate of Furman University.
Like The College Fix on Facebook / Follow us on Twitter