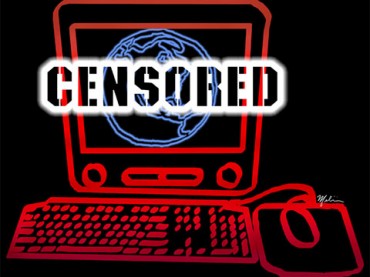 College is a time for learning, intellectual exploration and flexing your right to freedom of speech, but a new network use policy at Northern Illinois University (NIU) that seems to ban social media and political websites is drawing protests from students and advocacy groups.
NIU's Accessible Use Policy, last revised July 25, is likely to affect students' political activism because, according to the university, peering at unethical and politically subversive material on the Internet is grounds for investigation.
The revised policy was brought to light by Reddit user darkf, who claimed to learn about the policy last week after trying to look up information about the anti-gay Westboro Baptist Church from a personal computer, according to Betabeat.
"I just got settled into my new dorm. Found that the university has adopted a new policy that blocks many of the sites I normally go to. Is this common for a state-run university?" the user wrote on Reddit.
Darkf was notified that the Wikipedia page for the church was flagged as "illegal or unethical."
The warning prompt – which misspells "believe" and "security" – allowed the Reddit user to click through to the website, but it also warned that "unless you are accessing this site for legitimate business purposes, it is highly probable that the access would violate the Northern Illinois Acceptable Use Policy."
Susan Kruth, program officer for the Foundation for Individual Rights in Education's Individual Rights Defense Program, said the most questionable elements of the school's revised policy are:
Using the resources for political activities, including organizing or participating in any political meeting, rally, demonstration, soliciting contributions or votes, distributing material, surveying or polling for information connected to a political campaign, completing political surveys or polling information, and any other activities prohibited under the ethics act and/or other state/federal laws.
Purposefully interfering with or disrupting another information technology user's work as well as the proper function of information processing and network services or equipment.
Kruth's blog post said the university's filter appeared to be "intended for a large business corporation rather than for a public institution of higher education," given the warnings about "professional responsibilities" and "business purposes."
The fact that the Reddit user was merely trying to access information about a controversial church "paints a disturbing picture about the breadth of NIU's censorship efforts," Kruth said.
"Politically oriented websites and social media are integral parts of the 'marketplace of ideas' that universities are meant to be," but the school's policy "chills or precludes basic research," Kruth said, adding that FIRE was investigating.
The university responded on its NIU Today news site Wednesday that because it was "behind in the adoption of standard security practices like border protection for its network, the [filtering] system is still in its early phases of tuning."
"I want to assure students that — contrary to some Internet reports — they will have access to social media websites," said Chief Information Officer Brett Coryell in NIU Today.  The school "only considers blocking network traffic that constitutes a well known threat as determined by the broader IT security community."
The school also sent and retweeted a series of tweets saying it has neither a "ban" nor that it's "prohibiting" Wikipedia, social media or political sites. The administrator of the school's Twitter page said there was "no truth" to such claims, which are "completely false," in a series of discussions with Twitter users who pointed to the seemingly clear policy language.
Told the policy bans "social media" and "political activities," the administrator responded: "Let's work through this together, Margaret. What do you take that to mean?"
@Margaret_Nissen Let's work through this together, Margaret. What do you take that to mean?

— NIU (@NIUlive) August 21, 2014
FIRE and Reason, another critic of the policy, pointed back to the policy's own wording in respond to the university's claim that some of the provisions, such as the social media restriction, applied only to employees.
In fact, the policy says "all individuals, including, but not limited to, employees, students, customers, volunteers, and third parties, unconditionally accept the terms of this policy," FIRE's Kruth said in a followup post. "If parts of the policy concern only employees, they should be clearly labeled as such" and also only apply to "non-academic staff."
Kruth also poured cold water on the school's tweet that the restrictions are on "NIU computers" and not "personal computers … used by students." The policy itself says it applies to "computers attached to this network."
Maybe current IT staff "intends to apply it only to NIU-owned computers, but that doesn't appear to be what students are experiencing, and it's not what the policy says," Kruth said.
College Fix contributor Christopher White is a University of Missouri graduate student and an editorial assistant for The College Fix.
Like The College Fix on Facebook / Follow us on Twitter
IMAGE: [email protected]/Flickr