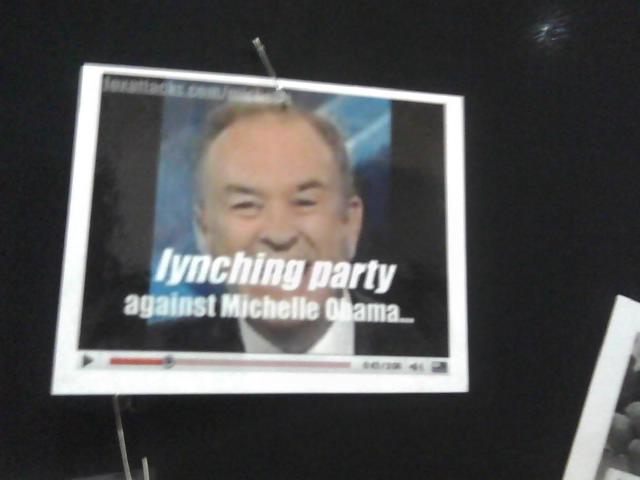 A recent "Tunnel of Oppression" student exhibit at CU Boulder that aimed to highlight insulting and derogatory words and images included among its offerings a picture of an angry-looking Bill O'Reilly, implying the Fox News anchor is a perpetrator of such demagoguery.
The photo of the newsman included the words "lynching party against Michelle Obama" in bold, large white letters. The photo also indicates it was taken from a video on FoxAttacks.com, a website with a tagline, "they distort, we reply."
The video in question highlights what some perceived to be hostile reporting toward Michelle Obama on Fox News leading up to the 2008 election, although ironically the audio clip of O'Reilly it includes has the newsman saying: "and I don't want to go on a lynching party against Michelle Obama."
The video then cuts to a definition of lynching, noting "after the Civil War, southern whites used lynching to terrorize and intimidate freed blacks who were voting and assuming political power."
But it appears O'Reilly – one of the most public faces of Fox News – is an oppressor, at least according to the exhibit, which was showcased last week on campus.
An estimated 1,000 people toured the three-day event, put on by a student diversity program centered at a LGBTQ-friendly dorm within the university and the ISM group, or Injustice Stops with Me.
Its goal, organizers said, is to raise awareness and take a stand against hate.
The O'Reilly photo was among hundreds of other offerings hung along the tunnel that organizers said showed examples of homophobia, ableism, ageism, transphobia, religious oppression, racism, body image, xenophobia, sexism, racism and bias.
Organizers encourage professors to send students to the annual exhibit, now in its eighth year, which has cut outs of supposedly offensive pictures and advertisements found in magazines and on websites. It also has slang words and the definitions of all the "isms" it aims to fight pinned along black curtains strung together to create a long tunnel for visitors to walk through.
As guests took in the passage last week, organizers doled out sunglasses with the words "See Life Through a Different Lens." The students who meandered through the tunnel remained mostly silent and solemn.
A "speak-up section" at the end of the tour advised students on how they can join the fight against oppression.
CU Boulder sophomore Gianni Franceschi, 20, said in an interview with The College Fix that tunnel told the true story of how racism and other phobias are inherent within society.
"There are many advertisements out there about oppression and racism, and a lot of those advertisements were making racism look like it was a joke and not a serious matter," she said.
Junior Anastasia Davis, 21, told The Fix the displays were powerful and moving.
"I almost cried," Davis said. "Especially seeing the writing in the bathrooms in (the campus library)."
Other students, however, were less impressed with the display and thought the images hurt the goal of the tunnel to combat oppression.
Freshman Will O'Bryan, 18, said that the tunnel offered many run of the mill photos and advertisements, yet the examples were construed as racist and homophobic by hypersensitive exhibit organizers who see hate where there is none.
"The issues they are presenting are noncontroversial, but it's clear they are looking at it from a left-wing agenda," O'Bryan said.
O'Bryan added the tunnel's pictures of comments in the library's bathroom stalls were laughable.
"It's a ballroom wall," he said. "What are you expecting to find there?"
Fix contributor Aslinn Scott is a student at CU Boulder.
Like The College Fix on Facebook / Follow us on Twitter