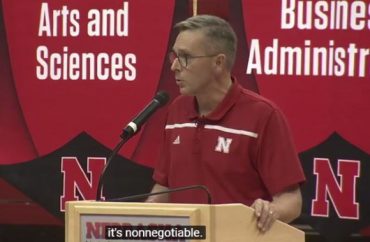 'Nonnegotiable' list of expected beliefs about diversity and inclusion 
Calling the University of Nebraska Lincoln a place that "values acceptance," the institution kicked off the fall semester with its newly installed chancellor essentially telling new students they should not say or do things that might be offensive or cause people to feel disrespected, calling the stance "nonnegotiable."
"We insist on a culture of respect, and we recognize that words and actions really matter," Chancellor Ronnie Green said during a speech at the new student convocation on Aug. 19.
While suggesting the university values free speech and freedom of expression, Green – who took the helm of UNL this summer – went on to declare: "We do not tolerate actions of hate and disrespect."
The policy, being called by campus leaders a set of "belief statements" on diversity and inclusion, is also spelled out on its website.
Green's comments come as Christianity and conservatism — even support of Donald Trump — is accused of being intolerant, hateful and racist on campuses nationwide.
Green did not define, neither in his speech or the written policy underscoring it, what an action of disrespect might be, leaving it widely open to interpretation. The vague set of beliefs also comes a time when accusations of microaggressions, or unintentional slights some interpret as racist acts, have a vice grip on universities.
"We all share in the responsibility to create a positive culture here and to safeguard equity, inclusion, diversity and respect," Green continued in his speech. " … We take action when we observe something or someone being treated unfairly or in a demeaning manner. It's our core belief as a university here at the University of Nebraska. It's nonnegotiable. That's who we are."
Green reiterated his stance in a memo to students.
The "belief statements" also come as the university announces a new assistant vice president for diversity, access and inclusion, Stancia Whitcomb Jenkins.
'If you can't express yourself respectfully, shut up'
At least one critic rebuked the policy, saying it means students are no longer allowed to dissent from progressive ideas.
"Chancellor Green has informed UNL's new students that UNL has a non-negotiable list of expected beliefs about matters of diversity and inclusion," said intellectual freedom activist David Moshman in the Huffington Post.
"In other words, here in the UNL community, we encourage you to speak up but if you say the wrong thing we will not tolerate it," he continued. "Feel free to politely criticize the ideas of ISIS or the Ku Klux Klan, for example, but make sure not to show any disrespect, much less hatred, for any group, individual, or ideology. If you can't express yourself respectfully, shut up."
These measures could also be alarming to some students at UNL, found to have zero Republican political science professors, The College Fix reported.
"Lincoln has trended towards the social justice principles for years. So I'm not surprised, I just won't be a part of it," UNL student Gus Burnette told The College Fix. "There are plenty of open arms to liberal rights groups, minorities, the LGBTQ community, and even libertarians. But if you dare bring up God, for example, be ready to be yelled at."
Like The College Fix on Facebook / Follow us on Twitter
IMAGE: YouTube screenshot