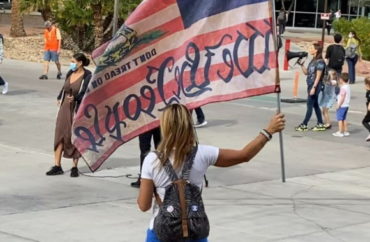 Event held on same day vaccine records must be submitted to enroll in spring classes
A rally against COVID vaccine mandates, organized by UNLV Turning Point USA and promoted by Las Vegas Freedom of Choice, was held at the University of Nevada, Las Vegas on Monday — the same day spring enrollment starts for students who have submitted vaccination records.
Nearly 50 people — many non-students — showed up to protest outside the Lied Library. The group included Nevada governor candidate Joey Gilbert and his campaign team, congressional candidate John Kovacs and his team, congressional candidate Noah Malgeri, local community members, and students from the UNLV TPUSA chapter.
"We believe in the right to choose what we put in our bodies and not be forced into an experimental vaccine just to keep our jobs or obtain an education," the End The Mandates event description states. "The vaccine is not the only way to maintaining [sic] a safe and healthy community."
Students passing by between classes stuck around to watch as protesters yelled into megaphones and chanted "Let's go, Brandon," "Unity," and "Do not comply." Some reacted positively or just laughed, while others were not so happy. A few came to counter-protest.
One woman shouted "fascists go home" and "f*** white supremacy." Another man pulled his mask down to cough in protesters' faces.
The Nevada State Board of Health previously mandated COVID vaccinations for college students within the state during an emergency meeting on August 20. Students who fail to submit proof of vaccination, file a medical or religious exemption, or complete an online-only agreement will not be allowed to enroll in classes for the spring semester.
"Receiving the COVID-19 vaccination is the scientifically proven most effective way to protect the health and safety of the NSHE community and end the pandemic," Nevada System of Higher Education Chancellor Melody Rose said in a news release Monday.
"I want to thank our public higher education community for continuing to adjust to the challenges brought on by the unprecedented COVID-19 pandemic. The health and wellbeing of NSHE's students, faculty, staff, and community continues to be our highest priority."
UNLV did not respond to a request for comment from The College Fix or answer how many students turned in proof of vaccination before class registration opened.
According to the Las Vegas Review Journal, UNLV received over 22,000 vaccination records and 950 medical or religious exemptions out of its total 31,000 students.
Students and faculty on other campuses around the country, like Fresno City College, Mississippi State University, and Bowling Green State University, have also held anti-mandate protests over the past month.
ALERT: Check out our Campus Cancel Culture Database
IMAGES: The College Fix
Like The College Fix on Facebook / Follow us on Twitter