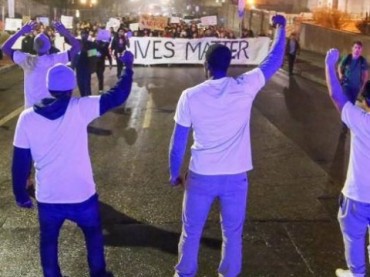 Students block traffic, interrupt library studies, prompt officials to launch new diversity training as campus faces massive budget cuts
MADISON, Wis. – Rowdy protests at the University of Wisconsin – Madison that decry the region and the state's flagship campus as plagued with racism have become regular occurrences, with recent demonstrations interrupting students studying for finals in the library and severely blocking traffic to a big hockey game.
The protests have been so raucous that administrators recently pledged to launch a wide variety of diversity initiatives and training to appease the angry students.
In mid-December, more than 800 student protesters stormed across campus and into the Helen C. White Library during finals week and staged a "die-in" demonstration that disrupted students studying and drew attention to the campus #BlackLivesMatter effort.
The protest gained considerable news coverage, and students questioned whether it was a one-time incident or the beginning of a trend.
They got their answer Jan. 23, when another campus protest shut down University Avenue, the main road through campus, before the start of the University of Wisconsin hockey game against rival University of Michigan.
A line of students stood in the middle of the street and refused to let traffic through. Elderly individuals and students waiting for bus rides home were not able to board because traffic was backed up on University Avenue for miles. Police finally escorted the protesters from the road and onto the sidewalk, and traffic flow eventually resumed.
Protesters had three demands, according to their Facebook page: that $8 million proposed for a jail study be taken off the table and invested in resources and initiatives led by the Black community; the immediate release of 350 black people who are currently incarcerated for "crimes of poverty"; and an end to solitary confinement.
Their event page quotes infamous cop killer and current escaped convict Assata Shakur: "It is our duty to fight for our freedom. It is our duty to win. We must love and protect one another. We have nothing to lose but our chains."
A slate of campus discussions on race have also taken place throughout January as these larger demonstrations unfold. Some black students claim they have been victims of racism on campus, and that they feel ostracized and unwelcome at UW-Madison.
At one point during a student-led discussion in mid-January on alleged racism on campus, members of a new campus group called "About Race UW" even proposed calling for the removal of the statue of President Abraham Lincoln from atop Bascom Hill, the Badger-Herald campus newspaper reports. The idea was dismissed as too extreme.
Meanwhile, administrators have sought to appease upset students, and put together measures that aim to promote diversity. Officials held a campus-wide conversation on race Jan. 20. Upcoming events include workshops in February titled "Diversity: How Do We Keep Talking?" and "Teaching Inclusively in the Age of Ferguson."
In a Jan. 30 campuswide email, Chancellor Rebecca Blank also promised to increase recruitment and retention efforts for students of color and to launch a diversity training and education program for students and faculty.
It is unclear how much such efforts will cost, and the suggestions take place at a time when UW-Madison is pondering tuition increases and the UW system as a whole is facing a $300 million budget cut.
Jason Morgan, a graduate student and teaching assistant at UW-Madison, sent an email to Blank this week that questioned the wisdom and effectiveness of the new diversity efforts.
"How much is all of this diversity to-do costing the taxpayers?" Morgan asked in an email to Blank CC'd to The College Fix. "[P]eople of color, who may hail from lower socio-economic backgrounds, will likely find the cost of college prohibitive, precisely because of [this] sort of extraneous bureaucratic acrobatics."
"I am disturbed by the implied politics of this endless diversity industry (for a lucrative industry is what is has become)," Morgan added.
"Take the talk on inclusion and the 'age of Ferguson,' for example. What is the 'age of Ferguson'? Is it an age in which grand juries examine evidence and return verdicts accordingly? An age in which dangerous criminals are held to account for committing crimes? In which police risk their lives in order to protect those in bad neighborhoods from their violent neighbors? Or is it the usual age in which everyone in the world is a racist (which is the pabulum one expects from such 'inclusivity' workshops)? In short, is this really about inclusion, or is it about reinforcing, yet again, the same old leftist ideology that we get in every other forum at the UW?"
Other UW-Madison students have additional concerns about the #BlackLivesMatter brouhaha on campus.
Vincent Burger, a senior majoring in engineering, told The College Fix he feels the protests represent a discussion about an important issue, but the way the protests are conducted interfere in the private lives of students.
"The protest should be done to bring attention to people in the community through meetings, rallies or organized events – not just blatantly interrupting other people's schedules," Burger said.
And Jackson Moore, a junior majoring in math, questioned the protesters' goals.
"I wonder what they are actually trying to accomplish with all this," he said. "Everyone, including them, knows they are not going to get $8 million dollars and almost 350 inmates released with no questions asked. So I really wonder what their real goals are, despite what they say publicly."
College Fix reporter David Hookstead is a student at the University of Wisconsin-Madison. 
Like The College Fix on Facebook / Follow us on Twitter
IMAGE: Facebook screenshot