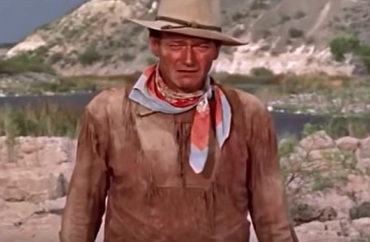 The University of Southern California's School of Cinematic Arts will remove an exhibit honoring actor and USC alum John Wayne due to his "endorsement of white supremacy" some 50 years ago.
According to The Hollywood Reporter, the move follows "months of student and alumni" protests regarding comments Wayne made in a 1971 interview.
The College Fix reported ten months ago on the initial stirrings of discontent regarding the exhibit; interestingly, the display had been up for seven years with nary a complaint.
In an interview with Playboy, Wayne said he "believes in white supremacy," didn't feel guilty that "five or 10 generations ago" blacks were slaves, and minced no words about the plight of Native Americans:
"I don't feel we did wrong in taking this great country away from [Natives]. Our so-called stealing of this country from them was a matter of survival.  There were great numbers of people who needed new land, and the Indians were selfishly trying to keep it for themselves."
Wayne also used a "gay slur" when describing characters in the 1969 film Midnight Cowboy.
"The Duke," famous for his film westerns, played football for USC in the 1920s.
The removal of the exhibit […] was announced Friday by Evan Hughes, the assistant dean of diversity and inclusion.

"Conversations about systemic racism in our cultural institutions along with the recent global, civil uprising by the Black Lives Matter Movement require that we consider the role our School can play as a change maker in promoting antiracist cultural values and experiences. Therefore, it has been decided that the Wayne Exhibit will be removed."

Hughes noted that materials from the exhibit, created in 2012, will be moved to the school's Cinematic Arts Library for research and scholarship, along with other Hollywood artifacts to "allow scholarship to continue on the role John Wayne's films played in the history of cinema."
The Democratic Party of Orange County, California recently demanded Wayne's name be stricken from the local airport for the same reasons cited by USC. The airport has honored Wayne since 1979.
MORE: USC addresses John Wayne exhibit after TWO protesters complain
IMAGE: YouTube screencap
Like The College Fix on Facebook / Follow us on Twitter