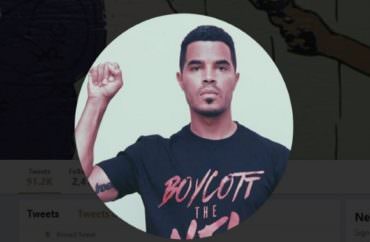 A University of Southern California professor says he stands behind his tweets that include obscenities directed toward President Donald Trump, calls for whiteness to be "destroyed," and the promotion of violence against the "white supremacist heterosexist patriarchy."
Charles H.F. Davis, an assistant professor of clinical education and Chief Strategy Officer and Director of Research of the USC Race and Equity Center, defended his tweets in an email to The College Fix on Wednesday.
"Yes, I stand behind my statements against white supremacy, heterosexism and homophobia, and patriarchy as systems of oppression, all of which are both embodied and advanced by the violent and dehumanizing rhetoric and policy decisions of the current President of the United States," Davis said.
In a statement provided to The Fix, USC affirmed its commitment to academic freedom while distancing itself from Davis's tweets.
"Statements made by our faculty members are not endorsed by the University; indeed, we sometimes profoundly disagree with the statements," the statement said. "Nevertheless, we protect their right to express those views. However, USC does not condone violence or threats of violence in any form."
The professor's comments to The Fix followed a report published this week by the independent news website InformationLiberation, which highlighted a number of controversial tweets from Davis's account as well as the account's background photo showing "a black woman threatening to shoot a white 'pig' with a gun."
The website said Davis's account, which has a name of "BLK IDNTTY XTRMST," is "anti-white racial hate and glamorizes the murder of police."
In a 2014 tweet highlighted by InformationLiberation, Davis mentions rapper Kanye West and says "Sometimes White supremacist heterosexist patriarchy needs to get the violence it imparts, making its intolerance clear."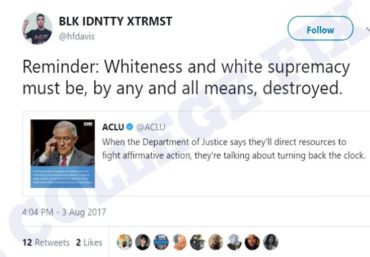 In subsequent tweets, the education professor has stated "whiteness and white supremacy must be, by any and all means, destroyed" and that "white supremacist capitalist patriarchy must be destroyed." Another tweet states "there can be no end to black rage when there is no end" to white supremacy.
Davis has repeatedly tweeted "Fuck you" in response to tweets from President Donald Trump, and in 2016 Davis used his Twitter account to offer his support of a tweet from Drexel Professor George Ciccariello-Maher that deemed the massacre of white people in the Haitian Revolution as a "good thing indeed." Ciccariello-Maher's tweet about the Haitian Revolution came one day after his infamous "All I Want for Christmas is White Genocide" tweet that garnered national attention.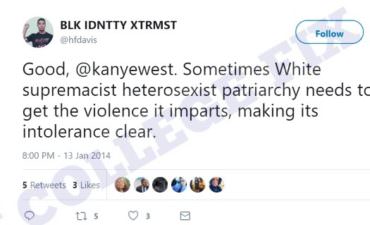 Davis told The Fix that he refutes InformationLiberation's accusation that his Twitter account includes "anti-white hate" and promotes violence against law enforcement, saying it is a "perfect and intentional misrepresentation." However, the professor did not deny harboring anti-police and anti-whiteness sentiments.
"To be clear, I am decidedly against whiteness as a social and political ideology, which systematically marginalize and disenfranchise people of color from opportunities for societal advancement," he said. "In addition, I am against the institution of policing, which has historically and continuously enacted racial terror, sexual violence, and economic exploitation against racial minorities, women and LGBTQ communities, and economically disadvantaged working-class people."
Referring to his background photo on his Twitter account, Davis said he thinks photos that show resistance to police violence are necessary and said the photo of a black woman shooting a pig in a police officer's uniform "is an intentional political statement."
Davis said he defines whiteness as an ideology of racial superiority based in racist practices and beliefs and added the concept "is neither synonymous with nor exclusive to white people." However, he said all white people reap in its benefits and that it must be eradicated because it "allows for both passive and active forms of violence to be enacted upon people of color, many of which result material and potentially fatal consequences."
Asked if he's worried his tweets may rub some of his students the wrong way and might lead them to believe he is biased, Davis said creating discomfort is a tool that aids learning and that he isn't worried about his tweets stirring discomfort "any more than the readings I assign or lectures I give on the topics of race and racism."
"The specific racial discomfort to which you are alluding, particularly for white students, is a symptom of white fragility," he added.
Last week, Davis penned an op-ed published in Inside Higher Ed arguing that student protesters should not be disciplined by universities and claimed punishments "reinforce institutionalized white supremacy."
Davis posted recently on Twitter that white nationalists and white supremacists are attempting to get him fired and posted screenshots of hate mail he's received.
MORE: Black LGBTQ campus director says he's wary of white gays, white women, police and heterosexuals
IMAGES: Twitter screenshots
Like The College Fix on Facebook / Follow us on Twitter