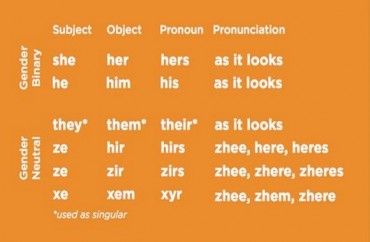 The president of a conservative student group at the University of Tennessee Knoxville has taken a stand against his university's request to the campus community to use "gender-neutral pronouns" such as "ze, xe, xem, xyr, zirs and hirs."
Michael Hensley, founding chairman of Young Americans for Freedom at UTK, stated in a blog post on his group's website that while he will respect those who identify as transgender, "I will not change my entire vocabulary as suggested by the Office for Diversity and Inclusion."
Hensley also stated:
According to the University's Office for Diversity and Inclusion, "The more we make sharing of pronouns a universal practice, the more inclusive we will be as a campus. When our organizational culture shifts to where asking for chosen names and pronouns is the standard practice, it alleviates a heavy burden for persons already marginalized by their gender expression or identity."

Welcoming to all and hostile to none—unless of course you have a more traditional view of the world. In that case, your opinions and views are automatically condemned—and your character and integrity are belittled. …

I will not apologize for my traditional view of the world—nor should my peers who are being criticized for their disapproval of this suggested policy. Our university, our state, and our beloved country deserve so much better. If we lose sense of who we are as a people, the problems we face now will be pale in comparison to those we will face later down the road.
Like The College Fix on Facebook / Follow us on Twitter