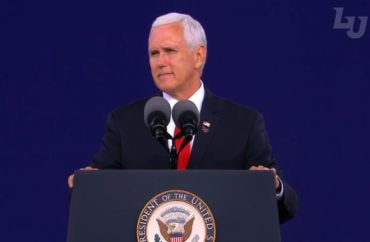 'This speech-is-violence argument is not only wrong … but also contradicts the letter and the spirit of the First Amendment' 
A group of 17 professors at the University of Virginia have banded together to publish an open letter in the student newspaper supporting former Vice President Mike Pence's right to speak on campus April 12.
Last week, The Cavalier Daily published an editorial arguing that speech which "threatens the lives of those on Grounds is unjustifiable" and thus "not entitled to a platform."
"Hateful rhetoric is violent — and this is impermissible," the editors wrote.
In their response, the faculty members express concern that the newspaper's journalists believe the speech of a former vice president constitutes "violence" that "threatens the well-being and safety of students on Grounds."
"This speech-is-violence argument is not only wrong — no calls for violence will be issued April 12 — but also contradicts the letter and the spirit of the First Amendment, which generally creates space for a wide range of views to be expressed so long as the relevant speech does not incite violence," the professors write.
The faculty response notes that equating speech to violence does a "disservice to those who are the victims of actual physical violence," including "those injured and killed during the many civil rights struggles in American history, those who fought and died for our constitutional rights as members of our armed services or the brave people of Ukraine who are fighting and dying for their freedoms, including free speech."
Sociology Professor W. Bradford Wilcox, one of the letter's co-signers, told The College Fix in a phone interview that while the individual political outlook of the students he has taught over the years hasn't changed, student leadership has become far more progressive.
These student leaders, said Wilcox, are "much less likely to fully embrace the spirit of the First Amendment."
"That's been striking, seeing a lot of students in the leadership class at UVA are sort of straying from the principles that were core to the founding of the university," he said.
"I think that a lot of the students I speak with feel like they can't fully articulate their perspective in class and in public. There's this sense that if you depart from a kind of progressive orthodoxy, you're going to be sanctioned socially on the internet, or in friendship circles."
UVA Politics Professor Colin Bird told The College Fix that free expression is important on college campuses because "intellectual humility is the most important precondition for learning anything."
"No one is obligated to listen to everything," Bird said. "But when some students wish to listen to an invited speaker, it's not for others, still less the university, to get in their way."
"To assert otherwise is to presume that one's own judgments about what is worth listening to supersede others'. That's intellectual arrogance, not humility. Many speakers, of course, are apt to talk drivel. But rather than suppressing it, one should explain why it is drivel, and let its drivelhood expose itself for all to see."
Pence is scheduled to appear on the campus at the invitation of the UVA Young Americans for Freedom chapter. The event is not sponsored by the university.
In November, YAF hosted an event called "In Defense of Mr. Jefferson," which promoted the positive aspects of the university's founder, Thomas Jefferson.
Activists accused speakers at the event of overlooking Jefferson's history of holding slaves. To protest the event, students hung signs on campus, defaced a promotion for the event on a nearby bridge, and criticized the group on Instagram.
But the editorial board at the Cavalier Daily believes the upcoming Pence event could actually physically threaten the lives of gay and transgender students, given Pence's history of opposing LGBTQ initiatives.
According to the editors, Pence's presence on campus "signifies a tolerance of rhetoric that has already harmed our community — in fact, the very building that Pence will speak in was constructed to hide Black citizens so as not to disrupt the landscape of Grounds."
"Simply put, there is a blatant dichotomy between the values that Pence and the University hold. Once so-called politics turn into transphobia, homophobia and racism, they are no longer mere political beliefs — but rather bigotry that threatens the well-being and safety of students on Grounds," the editorial reads.
The professors, on the other hand, cite the school's recent Statement on Free Expression and Free Inquiry to support Pence's right to speak on campus.
"The University has not always fulfilled its aspirations, exploiting enslaved laborers and excluding Black Americans, women, and groups and viewpoints disfavored by the majority," the statement reads, but adds, "Freedom of speech is among the most powerful tools by which wrongs are righted and institutions are improved or abolished."
"The political climate at the University of Virginia has grown to become nearly inhospitable towards conservatives," said Nick Cabrera, UVA YAF chairman in an interview with The Cavalier Daily.
"We are targeted for discussing our beliefs in the classroom, yet liberals are praised for their progressive and divisive tactics under the guise of 'diversity, equity, and inclusion.' Bringing the 48th vice president, Mike Pence, will allow for a reinvigorated sense of intellectual diversity across Jefferson's campus."
Wilcox told The Fix that social media is playing a large role in students' condemnation of others, but the fact that the "vast majority" of faculty and administration are overwhelmingly progressive also plays a large part.
"Students pick up on that and it shapes their sense of comfort in articulating views that might depart from a more progressive orthodoxy," he said. "I think that ideological monoculture makes students who are moderates or conservatives feel more reluctant about clearly articulating their own perspectives in class and other public debates unfolding on the college campus."
Wilcox credited UVA President James Ryan with being strong in articulating the need for free speech and intellectual diversity on campus, but thinks the school has challenges beyond "just talking."
Wilcox suggested when students first arrive on campus, they receive instruction on the First Amendment as part of their orientation. He also proposed doing more work with student leaders on campus to educate them on free speech issues.
He also noted the school could do a better job of incorporating intellectual diversity into its curriculum.
"There are dozens of institutes and programs at UVA, and virtually none of them would lean to the center or the right," Wilcox said. "I think there could be more institutionally done to create a college environment where a diverse range of voices are supported by the university in one way or another."
Bird said if students disrupt Pence's speech, they should not be punished.
"I think the university's responsibility begins and ends with preventing any threatened or actual disruption, as far as it can. Its job is to keep a space for debate open. The temptation to indulge a retributive response to protest of any kind should be resisted," he said.
MORE: UVA student paper says speech it doesn't like is 'not entitled to a platform'
Like The College Fix on Facebook / Follow us on Twitter