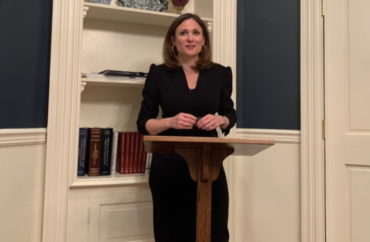 Abigail Shrier previously spoke to Princeton students at an event held off-campus due to safety concerns 
Dozens protested an event at University of Virginia featuring journalist Abigail Shrier, author of the 2020 book "Irreversible Damage: The Transgender Craze Seducing Our Daughters," invited to campus by conservative student groups.
"More than a hundred students, faculty and locals" gathered outside the hall where Shrier spoke Wednesday night, according to a Thursday article in The Cavalier Daily, the UVA student paper. The group shouted, "Say it loud, say it clear, transphobes are not welcome here."
The protesters "chant[ed] loudly enough to be heard from inside," according to another Cavalier Daily article by a reporter who attended the event. At least six people at the talk walked out.
During the talk, Shrier called transgender identification among youth a "peer contagion" and addressed audience members who questioned the science underpinning her conclusions.
In "Irreversible Damage," Shrier "dug deep into the trans epidemic, talking to the girls, their agonized parents, and the counselors and doctors who enable gender transitions, as well as to 'detransitioners'—young women who bitterly regret what they have done to themselves," according to the book's publisher.
In December 2021, Shrier spoke to Princeton students at an off-campus venue, the location of which was revealed solely to RSVP'd guests just a few hours before the event due to "threats and harassment" organizers said were leveled against Shrier and student groups co-hosting the lecture, The College Fix reported at the time.
Shrier's visit was sponsored by the Jefferson Council, a UVA alumni group involved in upholding President Thomas Jefferson's legacy, and the UVA chapter of the Common Sense Society, "an international network that promotes liberty, prosperity, and beauty."
Shrier's writings rely in part on work by medical doctor and gender dysphoria researcher Lisa Littman. In 2018, Littman coined the term "rapid-onset gender dysphoria" to describe the phenomenon of "some teens and young adults [whose] gender dysphoria might represent a maladaptive coping mechanism," to which "peer and social influences might contribute," as she described it in a 2019 interview in Quillette.
Though rapid-onset gender dysphoria is not a formal diagnosis, Littman recently teamed up with Northwestern University psychology Professor J. Michael Bailey to launch an extensive study of gender dysphoria in teenagers explore ROGD as a "promising explanation," Bailey wrote July 10 in The Free Press. 
On March 29, Bailey had co-published an article titled "Rapid Onset Gender Dysphoria: Parent Reports on 1655 Possible Cases" in the journal Archives of Sexual Behavior, only to have it withdrawn in June by journal publisher Springer Nature Group.
The publisher and editors wrote in a notice that the article was retracted "due to noncompliance with our editorial policies around consent."
"The participants of the survey have not provided written informed consent to participate in scholarly research or to have their responses published in a peer reviewed article," they continued. "Additionally, they have not provided consent to publish to have their data included in this article."
"The authors disagree with this retraction," the editors wrote.
Bailey countered these charges in his article in The Free Press.
"Springer's reasoning was preposterous and simply an excuse to retract an article they wanted to go away in order to stop the controversy," he stated. "Springer accused us of not obtaining informed consent from the parents in our study. There are two aspects to informed consent in research: you should understand what you're being asked to do, including any substantial risks and benefits, and you should be able to opt out. All parents completing Suzanna's survey knew they were being asked questions about their children's ROGD, and they decided to answer."
Additionally, "Springer's additional complaint was that we did not have consent to publish survey results," Bailey wrote. "This is plain wrong. We did inform participants that we would publish their data."
MORE: Author of 'Transgender Craze Seducing Our Daughters' offers parents advice
IMAGE: Matthew Wilson/ For The College Fix
Like The College Fix on Facebook / Follow us on Twitter