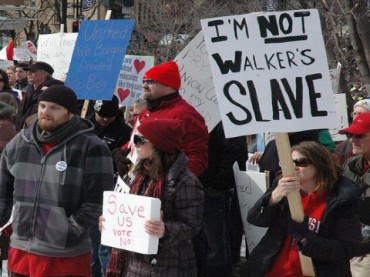 Scholars accuse governor of being clueless, claim proposal will drive talented educators away from campus
Professors at the University of Wisconsin-Madison have balked at Gov. Scott Walker's request to take on more classes to help balance the state budget, saying in interviews with The College Fix they already work well over 40 hours a week and claiming the proposal would damage the institution's reputation and quality.
They said if they took on more classes, the state's flagship university would ultimately lose talented educators. They suggest the best universities offer lighter course loads to professors as a way to encourage all-star scholars to work for that school so they have more time to do research.
"Education is a market driven field, and the free market is something that conservatives support," David Canon, a UW-Madison professor and chair of the political science department, said in an interview with The College Fix. "If UW-Madison increases the course load of professors then we're going to potentially lose our top professors and it'll be very difficult to hire great new professors."
As it stands, UW-Madison enjoys a Tier I "very high research activity" status under the Carnegie Classification of Institutions, considered the gold standard of college rankings. If Walker got his way, the professors said, that status would drop to Tier II, considered only "high research activity."
Typically, professors at Tier I schools are asked to teach two courses per semester, and professors at Tier II schools are asked to teach three classes per semester.
"Surprisingly, Governor Walker also does not seem to have a grasp of a really basic concept of markets," political science Professor Howard Schweber said in an email to The College Fix. "Employers compete for the best employees in any field, and universities are no different."
"By slashing funds, cutting support for research, and increasing teaching loads, UW-Madison would be making itself a much less attractive place for faculty. An institution that operates as a second-tier institution attracts and keeps second-tier talent, and provides a second-tier education."
However, Schweber acknowledged some professors could certainly work harder, but this was not the case for all professors.
"As in any enterprise, there are variations," he said.
The controversy can be traced back to late last month, when the Republican governor and possible 2016 presidential contender said that: "Maybe it's time for faculty and staff to start thinking about teaching more classes and doing more work and this
authority frees up the [University of Wisconsin] administration to make those sorts of requests."
And he told reporters last week: "They might be able to make savings just by asking faculty and staff to consider teaching one more class per semester. Things like that could have a tremendous impact on making sure that we preserve an affordable education for all of our UW campuses, and at the same time we maintain a high-quality education."
The comments came at the same time as Gov. Walker proposed a $300 million budget cut over the next two years for the University of Wisconsin system. Criticism and backlash from University of Wisconsin faculty and officials came quickly.
UW-Madison Chancellor Rebecca Blank released a statement that stated "teaching is a core mission of the university and taxpayers should expect that faculty are spending time in the classroom. But we know that our faculty are working on behalf of the state in research, outreach and fundraising, among other capacities."
Indeed, several faculty members at UW-Madison cited a survey of its faculty that revealed the average educator worked 63 hours per week. The survey was conducted across 11 departments and represented the four major fields: biological science, physical science, social science and humanities.
Canon told The Fix he does believe the 63-hour work week represented in the survey is accurate, and suggested Walker does not understand how much work professors undertake outside the classroom. Gov. Walker's father was a preacher, and a preacher's workload can't be accurately judged just by the sermon given on a Sunday, Canon added.
Political Science Professor Andrew Kydd said in a statement to The College Fix that increasing teaching requirements is the quickest road to a mediocre university.
"If you increase the teaching requirements, faculty who can get jobs at schools with lower teaching requirements will move," he said. "Those who remain and those who will come as new faculty will be people who cannot get jobs at better, more research oriented universities, so the quality of the faculty will decline."
Walker is expected to address this issue further at he presents his budget to state lawmakers.
College Fix reporter David Hookstead is a student at the University of Wisconsin-Madison. 
Like The College Fix on Facebook / Follow us on Twitter
IMAGES: Main, Emily Mills;Flickr/Inside, Scott Walker website