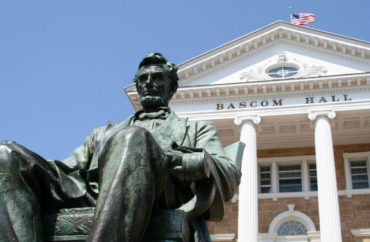 Statue on campus is oppressing indigenous students
A few days after our report on continual student demands to recognize the "systematic oppression" of Abraham Lincoln, the University of Wisconsin-Madison administration put its foot down.
The public university's prominent Lincoln statue will not be defaced with a plaque "recognizing the president's role in the deaths of natives," which is historically inaccurate, Chancellor Rebecca Blank told The Daily Cardinal:
According to Blank, Lincoln played a "restraining role" in the deaths of 38 Dakota men in 1862. She said Lincoln refused to agree to a territorial governor's proposal to sentence 350 natives to death.

"[Lincoln] insists on personally weeding through all of this, and he ends up saying 'I'm only going to take the sentences of those who we have evidence, witness evidence, that they were involved in either killing or raping, and everyone else we are going to dismiss charges on,'" Blank said. …

"Abe is actually here because he was the person who really created public universities in the states throughout this country in a very real way," Blank said. "I do not see a reason to prominently label [the killings of natives] on the Lincoln statue."
MORE: Is Madison the next Mizzou? Some say 'race war' brewing
Associated Students of Madison approved a resolution in the spring demanding a plaque. While an unidentified Student Council member had told us there was no pending resolution demanding a plaque this term, ASM Chair Katrina Morrison suggested she won't drop the issue:
Morrison said that while it is important to "acknowledge Lincoln's role in creating land-grant institutions," the university should still recognize "his brutality towards indigenous peoples." …

"I think that [not putting a plaque on the statue] is a mistake, and I think that the history is irrefutable. It is clear that he played a huge role in the massacre and was killing innocent people for no reason."
The indigenous student organization Wunk Sheek, the loudest voice against Lincoln on campus, said the university was oppressing its native people by not putting a plaque on Lincoln:
"They don't acknowledge the impact that it is having on their students, and I'm impacted by [seeing Lincoln on Bascom Hill] every day," [Co-president Mariah] Skenandore said. …

"If we don't keep advocating for ourselves, no one is going to advocate for us," she said.
h/t Campus Reform
MORE: 'Systematic oppression' of Lincoln up for debate again
IMAGE: Eric E Johnson/Flickr
Like The College Fix on Facebook / Follow us on Twitter