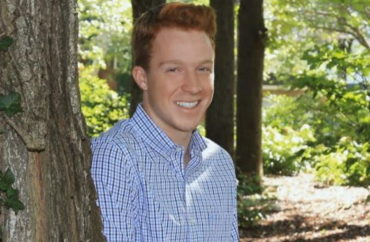 The Badger Herald, one of two student newspapers at the University of Wisconsin Madison, has dismissed a columnist following his submission of an op-ed that argued against defunding the police and instead spelled out ways to reform police departments.
Tripp Grebe, its author, called for better pay, better training, and police union reforms.
"If we're expecting police officers to be better, why would we be taking money away from them? When schools are failing, we don't 'Defund Schools,' we give them more money and implement new plans to ensure their success," Grebe wrote in his submission.
"The city of Milwaukee has been defunding the police department for years. This past year the city cut the department's budget by 60 officers, and the homicide rate in Milwaukee has more than doubled," he argued. "… As we continue to stare directly into the eyes of police brutality's harsh existence, let's continue to fight for solutions. Let's increase training and funding for police while extending Act 10 to cover police unions."
After he submitted it, he was told by the Herald's opinion editor Samiha Bhushan via email in late August that although the piece was "well written" that it was "too much of a hot take," and that upper management of the paper was worried it may "alienate" incoming freshmen, according to a screenshot of the email.
"Additionally," the email continues, "we just posted an editorial board supporting BLM and another article publicly endorsing two candidates who want to defund the police. As a result, your article would cause a lot of backlash that we cannot afford right now."
Bhushan said if Grebe was open to edits, there was a chance it may be able to run.
But a later email from upper management at the paper changed tune, next suggesting that the issue with Grebe's piece was solely with sourcing, despite the piece containing nearly 20 different sources from news outlets such as CBS News, the Milwaukee Journal Sentinel and the National Economic Bureau.
Grebe was later dismissed from the Herald via email after they were tipped off to an inquiry on the issue by the Young America's Foundation. YAF originally reached out to UW media affairs division, which apparently alerted the campus paper of the situation.
"It is of the utmost importance that our work is accurately and relevantly sourced," reads Grebe's dismissal letter, "your column was not, hence our decision not to publish this column."
In a statement to YAF, Badger Herald Editor in Chief Harrison Freuk defended the paper's decision, saying their emails to Grebe were unclear; he denied that their pro-BLM editorials had anything to do with not running the column, and instead told YAF it was a matter of Grebe's column containing "inaccurate/irrelevant information."
Freuk did not respond to a request from The College Fix seeking comment.
On their website, the Badger Herald describes itself as "the nation's largest fully independent student newspaper," and states it published items that "reflect the interests and tastes of the University of Wisconsin community."
Grebe was arguably the most prominent conservative opinion voice at the Herald, which has published five of his op-eds this year, such as the "Constitution should be interpreted as written, not as public opinion changes" and "While racialized attacks are unjustified, Chinese government mishandled COVID-19 pandemic."
Grebe told The Fix he "enjoyed being the only conservative columnist for a publication like the Badger Herald.
"It's frustrating that my column was censored because its viewpoint was different from the paper's editorial stance. Like any writer, I want to work for a paper that will permit me to express my viewpoint in a responsible way without being required to change my opinion to satisfy others," he said via email.
"It was disappointing to see the Badger Herald editorial staff claim my article wasn't published due to a sourcing issue, once the story became public," Grebe continued. "The Herald made it very clear both in their emails and when I met with them personally, that my article was well written and there was no sourcing issue."
The College Fix has published Grebe's rejected column. Read it here.
Like The College Fix on Facebook / Follow us on Twitter