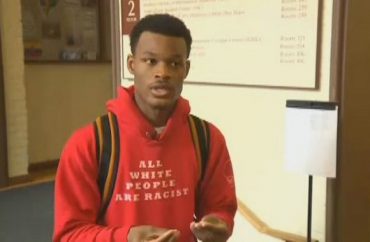 A spokesman for the University of Wisconsin-Madison has shrugged off concerns over one of its students selling hoodies bearing the phrase "All White People Are Racist" in capital letters.
"In this case, the individuals involved are exercising their rights to free speech and engaging in a private activity unrelated to their status as students," campus spokesman John Lucas said in an email to The College Fix.
Asked a second time to weigh in on the matter, Lucas gave the same answer.
The hoodies are the brainchild of an entrepreneurial UW-Madison undergraduate who recently began selling sweatshirts online—in Wisconsin red—which proclaim: "All White People Are Racist."
If you want "All White People Are Racist" hoodie order it now @ https://t.co/j2lKeG8kNE. yall better hurry they going fast!!! pic.twitter.com/0hgtFyKmDB

— Eneale Pickett (@Eneale_Pickett) October 16, 2016
Other sweatshirts offered by the same UW student vendor read, "If I Encounter Another Cop With A God Complex I'm Going To Have To Show The World That They Are Human," modeled by a woman in a hijab and begging the question of how she proposes to prove police officers' humanity.
The student designer has sold dozens of sweatshirts, including his newest design, which has the "All White People Are Racist" logo on the front and bloody handprints on each sleeve. He was recently featured in a UW student newspaper article modeling his designs right in the heart of campus, not twenty yards from the entrance to the main administrative offices atop Bascom Hill.
If you want this "blood on the sleeves" hoodies buy it now at https://t.co/TCQ855FGff!!! pic.twitter.com/lkkwoOL8Hp

— Eneale Pickett (@Eneale_Pickett) October 16, 2016
Seeking comment on the matter, The College Fix contacted Chancellor Rebecca Blank, Dean of Students Lori Berquam, and Vice Provost for Diversity and Climate Patrick Sims, who have been vocal supporters of Black Lives Matter and who have worked closely with Black Lives Matter in campus programming.
In keeping with the university's active demonization of its white students, singling them out for privilege-shaming "education sessions," not one of these three UW administrators accepted The Fix's invitation — sent twice — to denounce the message of racial hatred and possible calls for anti-police violence printed on the sweatshirts.
https://t.co/UhzrGAVp2D pic.twitter.com/difpJ296Iu

— Eneale Pickett (@Eneale_Pickett) October 5, 2016
The student entrepreneur has told news outlets he simply wanted to "start a conversation" and make people feel "uncomfortable" with his wares and that he has received both death threats and positive responses.
He majors in elementary education at the University of Wisconsin School of Education. As such, and according to the elementary education program's website, he will "Study teaching methods and gain experience in schools through supervised field placements during [his] four-semester professional sequence."
The Fix reached out to the dean of the School of Education, Diana Hess, to inquire as to whether the undergraduate selling the sweatshirts demonizing other races and apparently calling for violence against police officers would be placed in a classroom setting teaching young children. Dean Hess did not reply. (Ironically, Hess was hired by the UW School of Education because she wrote a book about why and how teachers should "ensure that all sides of a controversy are presented fairly" in a classroom.)
Perhaps Dean Hess' and the three UW administrators' reticence to comment on the matter is explained by the fact that the sweatshirts hardly express sentiments out of keeping with those of the university faculty, administration and staff as a whole. "White privilege" lecturing has become a regular feature of all aspects of university life.
The Geography Department, for example, showcases the scholarship of USC Professor Laura Pulido, who argues that "white privilege" is responsible for "environmental injustice," including environmental racism. The History Department recently sent out a blast e-mail exhorting all affiliated students and faculty to attend an upcoming lecture titled "How History Keeps Us Racist – and what to do about it." The History Department also gained national notoriety in 2013 for its mandatory diversity training, during which participants were given handouts on the "re-education process" needed for white people (and only white people) to overcome their "thorough racist conditioning."
Moreover, the University of Wisconsin system funneled taxpayer money into the pockets of the national White Privilege Conference organizers when that conference was held in Madison in 2014. Teachers who attended the event vowed to bring the lessons of the White Privilege Conference into their classrooms—precisely what the UW School of Education seems to be encouraging its undergraduates to do.
The UW system has also hosted extended "white privilege" campaigns advertised by posters featuring white models with racial slogans written on their faces.
Given this ongoing leadership in the "white privilege" movement now fully entrenched at universities nationwide, it is hardly surprising that the UW administration—which has been telling its students for years that all white people are racist—has declined to condemn a student who simply decided to print that slogan on articles of clothing.
UW spokesman John Lucas refused to provide guidelines as to whether the university would tolerate students selling sweatshirts making blanket generalizations about other ethnicities.
Like The College Fix on Facebook / Follow us on Twitter
IMAGE: Screenshot