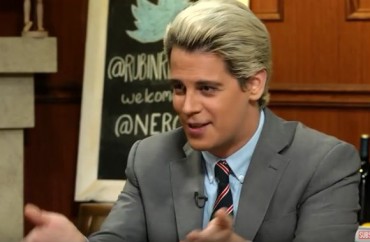 Protesters' violence was 'an abhorrent display of what Seattle has come to'
The University of Washington has a "yellow light" rating from the Foundation for Individual Rights in Education.
That's why it's surprising that not only did the school allow anti-feminist provocateur Milo Yiannopoulos to speak on campus Friday, but that UW President Ana Mari Cauce defended his right to do so after an apparent protester shot someone he mistook for a "white supremacist."
Here's what Cauce told students, faculty and staff in an open letter Saturday, responding to I-told-you-so demands that the university squelch an event because of the reaction it was getting:
In the weeks leading up to the event, I received calls and emails from many who wanted this event canceled, some of which cited the potential for disruption and conflict. My team and I consulted extensively with UWPD and Seattle Police beforehand, and while no credible threats were received, I gave serious consideration to the calls and emails and consulted with legal scholars and the UW division of the Attorney General's Office.

MORE: College Republicans leader says UW employee threatened her over Milo

So why did I allow the event to go on? First, there is the legal right of our student groups to invite speakers, even a controversial one whose message is anathema to many, including me. We are bound by the law. But beyond that, canceling the event would have sent the message that a risk of disruption or conflict can be used to overwhelm our rights. That would empower those on the extremes willing to resort to such tactics. And while canceling this event would have meant canceling a speech by someone whose views I personally find repulsive, the next time it could be a speaker whose views are more in line with mine, but anathema to someone else. Then there would be silence, with all the real discussion happening underground where arguments could not be examined, or critiqued openly.
The university's Twitter PR account identified the shooting suspect, who later turned himself in, as a 50-year-old man.
Law enforcement told The Seattle Times that the suspect alleged that he fired in self-defense after the other man, who looked like "some type of white supremacist," had "assaulted" him. They let him go.
Police free man who claims self-defense in UW shooting: https://t.co/TbqYueM3jq pic.twitter.com/nL7wUcX7m3

— The Seattle Times (@seattletimes) January 21, 2017
The 34-year-old shooting victim was in serious condition but breathing on his own as of Sunday, and his friends told the Times that he isn't a racist – just a Bernie Sanders supporter with an "anti-swastika tattoo" from his days in the California punk scene.
MORE: Ohio students protest Yiannopoulos by 'Growing a Garden of Love'
The gay Yiannopoulos, who dubbed his college visits "The Dangerous Faggot Tour," paused his speech to confirm the shooting but returned minutes later, telling the cheering crowd that "If we don't continue, they have won," according to the Times' Friday report.
President Cauce made one questionable claim, crediting her students with showing "restraint" in protesting Yiannopoulos.
Statement from UW President Ana Mari Cauce on shooting incident during protest in Red Square. https://t.co/bs0PcjNccp pic.twitter.com/vT6h49s1hL

— UW News (@uwnews) January 21, 2017
Though the free event was sold out by reservation, the upper tier of the 700-seat hall was not used, and only "more than" half of the 53o-seat lower tier was full shortly before Yiannopoulos started, according to the Times.
That suggests that hundreds of registered attendees could not get into the hall in time for the speech because of the protests outside, a typical situation at a Yiannopoulos campus event.
MORE: Milo appearance at NYU scrapped over 'security concerns'
More than 100 campus and city police officers had planned for the protests and broke up fights, UW spokesman Norm Arkans told the Times. They led attendees through an underground parking garage to avoid a crowd of 250 outside the hall.
The UW College Republicans, which invited Yiannopoulos to speak, savaged those who claimed the protests were peaceful, though it mostly blamed outside agitators ("Seattle Antifa") for the violence.
That "Antifa" group cited an anarchist report that it was actually "a Milo fan" who had shot "an anti-fascist comrade."

Read Cauce's statement and the Times' Friday and Saturday reports.
MORE: LSU tries to stop Milo based on possible 'incitement of violence'
MORE: UC-Davis protesters force cancellation of Milo event
MORE: WSU students plead with peers not to freak out over Milo visit
Like The College Fix on Facebook / Follow us on Twitter
IMAGE: Rubin Report/YouTube