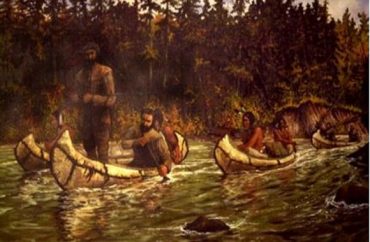 At UW-Stout, an 80-year-old historic painting of Native Americans canoeing in a river alongside French trappers has been deemed to have a possible "harmful effect" on students by Chancellor Bob Meyer, who has announced he will have it moved into a conference room where it can only be viewed by appointment.
Initially, Meyer announced that the painting, and another historic painting depicting a frontier fort, would be put in storage after UW-Stout's Diversity Leadership Team complained the images were offensive to Native American students. He recently walked back that decision after outcry from First Amendment groups.
Nevertheless, both paintings will still no longer hang in hallways within Harvey Hall — the largest academic building on campus. The fort painting is headed to the university archives, and "French Trappers on the Red Cedar" will be tucked away into a conference room, according to an Aug. 5 memo from Meyer to the campus.
"I am happy to report that we tentatively have found two suitable locations for the paintings that will meet my desire to continue to allow the public to view these historical paintings but under controlled circumstances," Meyer stated. "It was always my intention that, if at all possible, these paintings remain on campus because of their historical significance–but under circumstances that provide for controlled access for viewing. The public will be able to view the painting in the Dean's Conference Room in Harvey Hall by appointment. The University Archives location is open to the public but is overseen by the University Archivist, which also provides for controlled access."
The memo was provided to The College Fix by university spokesman Doug Mell, who stated "as you can see, the paintings simply are being moved to more appropriate locations. Nothing is being censored."
But First Amendment-rights groups remain concerned about the whole controversy.
"While Meyer's solution avoids totally censoring the paintings, the decision to cloister them fails to capitalize on the educational value of the artwork," the Foundation for Individual Rights in Education stated.
And the National Coalition Against Censorship's Director of Programs Svetlana Mintcheva stated the decision "betrays the mission of a university, which is to challenge, to help students confront the past critically, to make them think."
Both groups had suggested in a letter to Meyer that the school simply install additional signage to provide historical context for the paintings.
But Meyer has defended his actions by saying in an op-ed "I became convinced by listening to our Native American students, employees and others on campus, that these paintings stood in the way of that aforementioned effort to create an inclusive and comfortable environment for everyone."
MORE: U. Wisconsin-Stout to remove pics of Native Americans due to potential 'harmful effects' on students
MORE: Madison, Wisc. schools ban 'negative images' of Native Americans
MORE: Brown students stage 'die-in' to protest lack of Native American recognition
College Fix editor Jennifer Kabbany contributed to this report.
Like The College Fix on Facebook / Follow us on Twitter
IMAGE: French Trappers on the Red Cedar