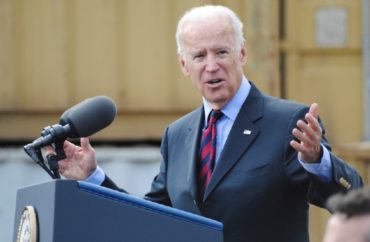 More than 70 percent agreed that spending the money on non-essentials is wrong
A majority of people surveyed said they're likely to spend their student loan bailout funds on "non-essentials, including vacations, smartphone, [and] drugs/alcohol," according to an October survey of 1,250 people by Intelligent.com.
The survey was commissioned by Intelligent.com and conducted online by survey platform Pollfish.
Participants in the study "have applied or plan to apply for Biden's student loan forgiveness program," according to the outlet.
More than 50 percent said they are "very likely" or "likely" to buy new clothing and accessories with some of their bailout funds. Vacations (46 percent) or eating out (46 percent) "were also popular answer choices," in a survey in which participants could select multiple answers.
Men were more likely than women to say they'd spend their money in this way, according to the site. More than 80 percent of men said they'd spend it on "non-essentials," compared to 65 percent of women.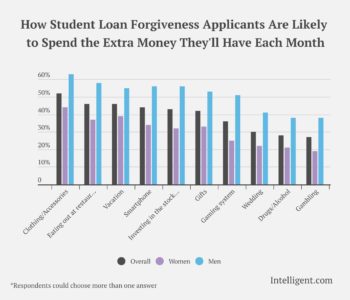 Other categories in which applicants say they are likely to spend the money include stock market investments, gifts, gaming, wedding, and gambling.
At least the respondents are not preaching what they practice. Seventy-three percent agreed that using student debt relief to buy non-essential goods is wrong. Seventy-seven percent of applicants also said "they could use money more wisely," according to the survey.
Many respondents also said they will spend at least some money on essential purchases. Seventy-five percent indicated they will spend some money on groceries, and more than 60 percent said they'd spend it on rent or mortgage payments.
Survey backs up many student bailout critiques
The imprudent use of funds reported by survey respondents aligns with many other criticisms of the student loan bailout.
Editorial boards from the Washington Post to the Wall Street Journal have argued that the bailout helps those with more earning potential at the expense of the poor and working-class, subsidizes poor educational choices, and gives colleges an incentive to raise their already sky-high prices.
"Widely canceling student loan debt is regressive," the Washington Post editorial board wrote in August. "It takes money from the broader tax base, mostly made up of workers who did not go to college, to subsidize the education debt of people with valuable degrees."
"Though Mr. Biden's plan includes an income cap, the threshold does not reflect need or earnings potential, meaning white-collar professionals with high future salaries stand to benefit," according to the editorial. "Student loans, moreover, are a poor proxy for household income."
The Wall Street Journal concurred.
"The Penn Wharton Budget Model estimates that the President's student loan relief could cost as much as $1 trillion," the paper's own editorial board wrote in September.
"Colleges will cash in on Biden's student loan forgiveness," a headline from another Wall Street Journal editorial read.
"Public and nonprofit colleges are like any other business, except they can profit from taxpayer subsidies without accountability," according to the Wall Street Journal. Mr. Biden's loan write-offs show this system has failed to reduce student costs while enriching an academic elite, and soaking taxpayers."
"Government subsidies have been driving too many young people to pursue degrees whether or not they are worthwhile investments," according to another Wall Street Journal editorial published in August. "The president's loan forgiveness and 5% income cap on monthly loan payments will compound all these misaligned incentives that have produced a growing class of underemployed and over-credentialed young progressives."
The Intelligence.com survey responses support widespread claims that the funds will subsidize those with wealth and high earning potential while putting a greater tax burden on working class people without college degrees. Biden's student loan bailout is regressive and likely illegal. It may be good for Democratic reelection prospects, but it is not the way to relieve financial burdens for families most in need.
MORE: Federal court blocks Biden student loan bailout
IMAGES: Intelligence.com, Marlin 360/Shutterstock.com
Like The College Fix on Facebook / Follow us on Twitter