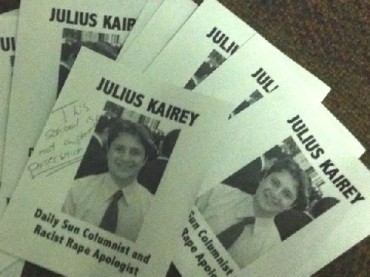 ANALYSIS 
Julius Kairey, an openly conservative student columnist for the Cornell Daily Sun campus newspaper, was viciously smeared in a recent mass public attack, with fliers spread around the Ivy League university that unfairly and inaccurately labeled him a "Racist Rape Apologist."
An unknown number of paper fliers were peppered in high-traffic campus locations late last week, such as a walkway near freshmen housing and Cornell's Olin Library.
The fliers featured a large picture of Kairey in the center, with his full name in bold lettering across the top and a caption below reading: "Daily Sun Columnist and Racist Rape Apologist."
The description may be in reference to some of his opinion columns in the Sun, the mainstream campus newspaper. The perpetrator of the malicious campaign has yet to be apprehended. 
The ad hominem attack is likely drawn from a few columns written by Kairey, notably "The Truth About 'Rape Culture'," published in April, which questioned the stats behind the so-called campus rape epidemic and defended due process for those accused of sexual assault; and more recently "Should California Redefine Campus Sexual Assault?" published last Thursday, when the fliers were discovered.
That column questioned the "affirmative consent" legislation pending in California, noting that if passed it would not only invade people's private lives but create a legal nightmare because "despite the good intentions of the law's supporters, this legislation serves only to muddle the line between consensual sexual behavior and sexual assault because it fails to specify what is needed to establish affirmative consent. It is crucial that the distinction between consensual sex and sexual assault remain clear in our laws."
Kairey has said he prefers not comment on the situation at this time.
The Cornell Review, Cornell's conservative student newspaper, has come to the defense of Kairey, pressuring campus administrators to take the matter seriously and find and punish the culprits, noting that the newspaper staff is "currently in contact with several of Cornell's administrative offices gathering information about the university's response to this act and whether it qualifies as libel and/or personal harassment."
Casey Breznick, the Review's editor in chief and a sophomore studying business, told The College Fix that the recent attack on a fellow conservative student has only emboldened his desire to see free speech and a diversity of opinions honored on campus.
"The prospect of getting attacked for my views, however, is no deterrent," he said. "In fact, I welcome it, because it only goes to show the desperation of these attackers and how their utter lack of reason, logic, and civility is self-defeating."
Breznick told The Fix he seeks an open, civil debate.
The Review has reported that "Kairey's articles are often met with calls for his censorship via removal from the Sun's staff. After he published his article on Islamophobia, the calls were so strident and widespread the Review submitted a Letter to the Editor to the Sun asking critics to respect free speech and open debate."
His column "Islamophobia and Racism," published Sept. 4, had prompted angst among several campus groups.
While those who have never read one of Kairey's columns might be led to believe they're inflammatory tirades by their headlines alone, they are quite the opposite. In every one of his well-researched columns, Kairey takes a respectful approach to difficult issues, presenting his unpopular opinion in a logical and sensitive manner.
In his article about defining sexual assault, he writes, "In this whole conversation, the most important question to ask is if anyone made safer by these new standards." In one regarding "Rape Culture" he states that: "The best hope for change lies in real dialogue about the importance of consent and what it means to consent to sex."
These comments, aimed at spurring dialogue, resulted in appalling comments and personal attacks on the Sun's website. Student Anna-Lisa Maria wrote in response to his "Rape Culture" article, garnering 65 Likes, "I can't believe the Sun printed this garbage. … I would say it's ignorant but that implies innocence. This is hateful. The Cornell Daily Sun just gave 729 words to a rape denier."
Kairey, in what almost amounts to a prediction, wrote in his article about sexual assault that: "Now, some activists say that a failure to subscribe to the 'yes means yes' standard proves that one is uncaring about sexual violence and uninterested in tackling the problem."
"When disagreement descends into personal attacks of that nature, having an honest and open conversation on an issue becomes nearly impossible. Dissent from the prevailing view serves as automatic proof of malevolent intentions."
It appears his concerns came true.
College Fix contributor Sandor Farkas is a student at Dartmouth College.
Like The College Fix on Facebook / Follow us on Twitter
IMAGE: Courtesy Cornell Review