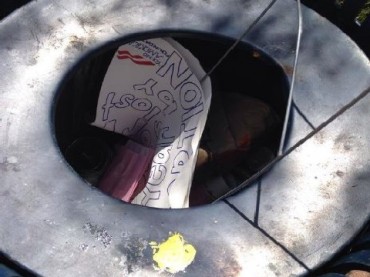 Vandals at George Washington University recently defaced – then threw away – a pro-life sign that read "in memory of the lives lost each year by abortion" placed amid white crosses dotting the campus lawn.
At first someone changed the sign to read "in memory of the lives SAVED each year by abortion," then later the sign was found crumpled up in a campus trash can, according to members of Young America's Foundation, the conservative student group that put up the display Thursday.
"The vandalism of the 'Cemetery of the Innocents' is a poor reflection of the student body's claimed tolerance," freshman Tory McClintock, deputy director of political affairs for the club, told The College Fix. "They say that diversity of opinions is accepted, yet it is unfortunate that some students in fact feel that (our organization) should not have a voice because they disagree with our pro-life stance."
GW's Young America's Foundation chapter's "Cemetery of the Innocents" aims to emphasize the lives lost each year to abortion. The display was actually supposed to go up a few months ago in conjunction with the Roe V. Wade anniversary, but snowy weather forced the group to reschedule its plans.
"The event was intended to have GW's community think and ponder about the lives that never had a chance, and to remind the community of the sanctity of life," Amanda Robbins, the group's political affairs director and an organizer of the event, told The College Fix. "While many respected our display, it is disheartening that some students could not refrain from vandalizing it."
She said it indicates a "double standard" on campus, and that students who like to tout their tolerance are actually quite hypocritical.
According to Robbins, a piece of paper with the word "saved" taped over the word "lost" on the sign was the first act of vandalism. Young America's Foundation members discovered their defaced sign and took the added word off, then left. But only a few hours later, they returned to see that the sign had been "stolen and crumpled into the trashcan," Robbins said.
Later in the afternoon, homemade pro-choice signs were placed next to the display of crosses – "in passive-aggressive protest," said Robbins.
"Whether students agreed with our bold statement or not, I hope it made them consider those lives that never had an opportunity at life," Robbins said.
The display did prompt a hearty online discussion about abortion among students on the "Overheard at GW" Facebook page, where students often post funny items they see or hear around campus.
The abortion debate among George Washington students included topics such as whether or not males can comment on the issue since "they don't have female reproductive parts." Pro-choice comments garnered far more "Likes" than counterarguments.
College Fix contributor Andrew Desiderio is a student at The George Washington University.
Like The College Fix on Facebook / Follow us on Twitter
IMAGES: Courtesy photos/ YAF GW