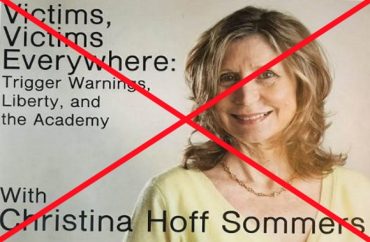 On Thursday, students hosting an upcoming talk by scholar Christina Hoff Sommers put up roughly 50 flyers promoting the event on four different campus buildings at Columbia University and Barnard College. Within 24 hours, most had been torn down.
The flyers advertised Sommers' scheduled appearance at Columbia University on Nov. 1 titled "Victims, Victims Everywhere: Trigger Warnings, Liberty, and the Academy." Flyers advertising Columbia and Barnard's politically liberal and neutral events were left unharmed.
Sommers is known for her critique of contemporary feminism, arguing it can be faulted for its "irrational hostility to men, its recklessness with facts and statistics, and its inability to take seriously the possibility that the sexes are equal—but different."
Barnard College student Toni Airaksinen, who is co-hosting Sommers' talk as part of the Columbia American Enterprise Executive Council, told The College Fix that "some Columbia students are so committed to speech regulation that they don't even believe alternative viewpoints should be brought to campus."
"I have already seen students write Facebook statuses talking about how they want to rally or protests at the lecture," she said. "Tearing down flyers is just an easier and quicker way to protest."
All across campus, in all diff buildings, posters for @CHSommers visit to @Columbia on Nov 1st have been ripped down: pic.twitter.com/8BcvlvG5Hl

— Toni Airaksinen (@Toni_Airaksinen) October 21, 2016
One student reaction on social media stated: "I am AMAZED she is even allowed in the campus area!!!!!" And The Tab Columbia declared: "Rape culture denier Christina Hoff Sommers to speak at Columbia."
Ben Sweetwood, a Columbia alumnus, tells The College Fix he is not surprised the flyers were torn down. "It's very common to have flyers torn down," Sweetwood said. "It happened while I was a student."
It's unclear who tore down the flyers for Sommers' speaking engagement.
Columbia student Jonathan Schatz-Mizrahi, another co-organizer of Sommers' talk, said Sommers is a distinguished scholar at the American Enterprise Institute and deserves respect.
"Some Columbia and Barnard students are so blinded by their political ideologies … They resort to bully tactics that will only highlight their misguided ideologies," he said.
Organizers said they plan to hang more flyers up this week to replace the trashed ones.
Columbia is not the only campus at which Sommers' flyers have been vandalized.
In late September flyers advertising her speech at Cal State LA titled "Where Feminism Went Wrong" were ripped down by a female student who called the posters offensive, according to a video of the incident.
When Sommers spoke at Oberlin last year, posters put up by protestors called her a rapist supporter, and her speech was peppered with rude, immature heckling. Her visit also included an announcement by two safe-space facilitators prior to the talk.
Editor's Note: Toni Airaksinen is a reporter for The College Fix.
MORE: Columbia student reported for 'gender misconduct' after calling himself 'handsome' in class
Like The College Fix on Facebook / Follow us on Twitter
Like The College Fix on Facebook / Follow us on Twitter